Publication:
Carbon Dots and Graphene Quantum Dots in Electrochemical Biosensing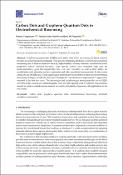 Advisors (or tutors)
Editors
Abstract
Graphene quantum dots (GQDs) and carbon dots (CDs) are among the latest research frontiers in carbon-based nanomaterials. They provide interesting attributes to current electrochemical biosensing due to their intrinsic low toxicity, high solubility in many solvents, excellent electronic properties, robust chemical inertness, large specific surface area, abundant edge sites for functionalization, great biocompatibility, low cost, and versatility, as well as their ability for modification with attractive surface chemistries and other modifiers/nanomaterials. In this review article, the use of GQDs and CDs as signal tags or electrode surface modifiers to develop electrochemical biosensing strategies is critically discussed through the consideration of representative approaches reported in the last five years. The advantages and disadvantages arising from the use of GQDs and CDs in this context are outlined together with the still required work to fulfil the characteristics needed to achieve suitable electrochemical enzymatic and affinity biosensors with applications in the real world.
Collections