Publication:
Nuclear receptors (PPARs, REV-ERBs, RORs) and clock gene rhythms in goldfish (Carassius auratus) are differently regulated in hypothalamus and liver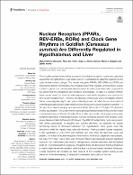 Advisors (or tutors)
Editors
Abstract
The circadian system is formed by a network of oscillators located in central and peripheral tissues that are tightly linked to generate rhythms in vertebrates to adapt the organism to the cyclic environmental changes. The nuclear receptors PPARs, REV-ERBs and RORs are transcription factors controlled by the circadian system that regulate, among others, a large number of genes that control metabolic processes for which they have been proposed as key genes that link metabolism and temporal homeostasis. To date it is unclear whether these nuclear receptors show circadian expression and which zeitgebers are important for their synchronization in fish. Therefore, the objective of this study was to investigate whether the two main zeitgebers (light-dark cycle and feeding time) could affect the synchronization of central (hypothalamus) and peripheral (liver) core clocks and nuclear receptors in goldfish. To this aim, three experimental groups were established: fish under a 12 h light-12 h darkness and fed at Zeitgeber Time 2; fish with the same photoperiod but randomly fed; and fish under constant darkness and fed at Circadian Time 2. After one month, clock genes and nuclear receptors expression in hypothalamus and liver and circulating glucose were studied. Clock genes displayed daily rhythms in both tissues of goldfish if the light-dark cycle was present, with shifted-acrophases of negative and positive elements, as expected for proper functioning clocks. In darkness-maintained fish hypothalamic clock genes were fully arrhythmic while the hepatic ones were still rhythmic. Among studied nuclear receptors, in the hypothalamus only nr1d1 was rhythmic and only when the light-dark cycle was present. In the liver all nuclear receptors were rhythmic when both zeitgebers were present, but only nr1d1 when one of them was removed. Plasma glucose levels showed significant rhythms in fish maintained under random fed regimen or constant darkness, with the highest levels at 1-h postprandially in all groups. Altogether these results support that hypothalamus is mainly a light-entrained-oscillator, while the liver is a food-entrained-oscillator. Moreover, nuclear receptors are revealed as clear outputs of the circadian system acting as key elements in the timekeeping of temporal homeostasis, particularly in the liver.
Collections