Publication:
Aproximación al comportamiento electoral de los colombianos : estudio desde los factores individuales del ciudadano para entender la participación y la abstención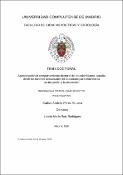 Files
Authors
Advisors (or tutors)
Editors
Publisher
Universidad Complutense de Madrid
Abstract
La presente investigación tiene como finalidad describir las variables que inciden en el comportamiento electoral de los colombianos, particularmente los motivos que los llevan a abstenerse o participar, sin profundizar en tendencias ideológicas. Lo anterior desde la perspectiva de los factores individuales, que diferencian a la persona y podrían explicar su accionar en medio de grupos sociales, y políticos, que hablan de la coyuntura de campañas electorales e issues propuestos. Se trata de una investigación empírica y descriptiva -con la intención de trascender más allá de los estudios existentes sobre relaciones clientelares con los dos grandes partidos históricos-, que utiliza datos de cuatro encuestas realizadas para las elecciones de 2011 en igual número de ciudades colombianas, con los que se logró, a través del modelo estadístico, una aproximación a las razones que motivarían la participación de la ciudadanía en procesos democráticos. Para tal fin sólo se usan las respuestas de intención de participar, filtradas con quienes habían manifestado haber votado en las elecciones inmediatamente anteriores (2010). El análisis de datos se ha basado en técnicas bivariante y multivariante, con la aplicación de un modelo de regresión logística que permite medir el impacto de las variables independientes sobre la dependiente. Igualmente, y para fortalecer la lectura del contexto particular de cada una de las ciudades analizadas, se ha realizado trabajo de campo con el fin de recabar información cualitativa que permitiera explicar las variables independientes a la luz del comportamiento electoral histórico, y la fuerza que han tenido los partidos tradicionales y los nuevos. La principal conclusión del trabajo es que existen variables comunes en las diferentes ciudades que podrían marcar un indicativo en el comportamiento electoral de los colombianos, como el grupo poblacional de los jóvenes que muestra poca intención de acudir a las urnas, al igual que el que representan las personas que no tienen afinidad con partidos políticos. Sin embargo hay otras que dan cuenta de las particularidades de cada una de las ciudades evaluadas que, necesariamente, configuran una historia particular y habría que buscar elementos diferenciadores para potenciar la participación ciudadana como una política pública.
This research describes the variables that affect voting behavior of colombians, specially the reasons that lead them to abstain or participate, without going into ideological tendencies. The study is conducted from the perspective of individual factors that differentiate the voters and could explain their actions among social groups. This is an empirical and descriptive research -with the intention to transcend beyond existing studies on relations of citizens with the two historical parties-, which uses data from four surveys conducted for the 2011 elections in the same number of colombian cities. With this data there was achieved, through the statistical model, an approach to the reasons that motivates participation of citizens in democratic processes. There were only used the responses of people who had intention to participate, filtered with those who had reported having voted in the immediately preceding elections (2010). Data analysis was based on bivariate and multivariate techniques, applying a logistic regression model to measure the impact of independent variables on the dependent. Also, in order to give a precise background it has been done field work to collect qualitative information in the four cities, that would help explain the behavior of their citizens based in the historic voting results and the socio demographic variables. The main conclusion of this study is that there are common variables in the different cities that could mark a sign on the voting behavior of colombians: for example the population group of young people showing little intention of going to the polls; in the same way, the people that does not have affinity with political parties. However there are others variables that evidence the particularities of each of the cities evaluated, that necessarily constitute a specific history that should be taken into account to promote citizen participation.
Description
Tesis inédita de la Universidad Complutense de Madrid, Facultad de Ciencias Políticas y Sociología, leída el 17-11-2015
Collections