Publication:
Utilización de técnicas genéticas y anticuerpos recombinantes para la detección de alérgenos alimentarios de origen vegetal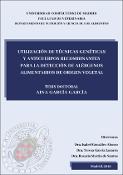 Authors
Advisors (or tutors)
Editors
Publisher
Universidad Complutense de Madrid
Abstract
El correcto etiquetado de los alimentos es un elemento fundamental para garantizar la seguridad alimentaria y prevenir los fraudes comerciales. En este marco, el Reglamento (CE) 178/2002 reconoce a los consumidores el derecho a estar debidamente informados respecto a los alimentos que adquieren para que puedan elegir con conocimiento de causa los productos adecuados a sus necesidades. Este hecho se hace especialmente relevante en el caso de personas que sufren algún tipo de alergia alimentaria dado que, en estos individuos, incluso pequeñas cantidades del alérgeno pueden desencadenar una reacción adversa severa. Para proteger a los consumidores alérgicos, el Reglamento (UE) 1169/2011 establece un total de 14 grupos de ingredientes que obligatoriamente deben declararse en el etiquetado de los productos que los contengan por ser los causantes de una elevada parte de las reacciones alérgicas humanas. Para dar cumplimiento a estas normativas, las industrias y agencias encargadas de la seguridad alimentaria deben disponer de técnicas analíticas sensibles y específicas para identificar aquellos alérgenos que puedan estar presentes, tanto de forma voluntaria como accidental, en los productos alimenticios...
Correct food labelling is a critical element to ensure food safety and prevent commercial fraud. In this framework, Regulation (EC) 178/2002 recognises consumer's right to be well-informed about the food they purchase so that they can choose the products that best meet their needs. This fact is especially relevant for people suffering from food allergies since in these individuals even small amounts of the allergen can trigger a severe adverse reaction. To protect allergic consumers, Regulation (EU) 1169/2011 establishes a total of 14 groups of ingredients that must be declared on the labelling of foodstuffs, as they are responsible for a high proportion of human allergic reactions. To comply with these regulations, industries and food agencies must be provided with sensitive and specific analytical techniques to identify those allergens that may be voluntarily or accidentally present in food products...
Description
Tesis inédita de la Universidad Complutense de Madrid, Facultad de Veterinaria, Departamento de Nutrición y Ciencia de los Alimentos, leída el 22-11-2019
Collections