Publication:
Genosensores y su aplicación en el análisis de alimentos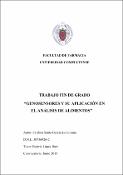 Authors
Advisors (or tutors)
Editors
Abstract
Las enfermedades alimentarias constituyen un importante problema de salud pública y, además, tienen graves repercusiones en la economía de los países. Es necesario por tanto implantar métodos de fácil aplicación e interpretación para la detección de los patógenos que las causan. El objetivo del presente trabajo es revisar información para conocer el diseño, funcionamiento y aplicabilidad de los genosensores como método de análisis electroquímico en patógenos presentes en alimentos, y con ello compararlo frente a técnicas clásicas de análisis. Para ello se realizó una búsqueda bibliográfica a través de tres bases de datos diferentes revisando artículos publicados en los últimos 15 años. Se concluyó que los genosensores se tratan de dispositivos de análisis baratos, selectivos y de fácil manejo que utilizan el material genético de virus y bacterias para su detección mediante una reacción de hibridación. La irrupción de estos dispositivos ha supuesto una revolución en el análisis de alimentos, detectando la presencia de patógenos responsables de enfermedades como el cólera, el dengue o la salmonelosis, entre otras. Su efectividad, rapidez y fácil manejo hacen que estos dispositivos sean una buena alternativa a los métodos clásicos como el cultivo celular, donde el aislamiento e identificación es un proceso largo de varios días de duración o la PCR a tiempo real, que requiere de laboratorios con instrumentación compleja y personal especializado para su desarrollo.
Food-borne diseases are a major public health problem which have serious repercussions on the economy of the countries. It is necessary to establish easy-toimplement application and interpretation methods for the detection of the pathogens that cause these diseases. The aim of this study is to review all the information needed to understand the design, mechanism and effectiveness of genosensors as a method of electrochemical analysis in food pathogens, and compare them against traditional techniques. To achieve this, a literature search was performed using three different databases and reviewing articles published in the last 15 years. It was concluded that genosensors are cheap, selective and easy-handling devices that use the genetic material of virus and bacteria for its detection by a hybridization reaction. The emergence of these devices has supposed a revolution in food analysis, detecting the presence of GENOSENSORES Y SU APLICACIÓN EN EL ANÁLISIS DE ALIMENTOS 4 pathogens responsible of diseases such as cholera, dengue and salmonella, among others. Their effectiveness, speed and simplicity make them a good alternative to traditional methods such as cell culture, in which isolation and identification is a long process that requires several days or real-time PCR, which involves complex instrumentation laboratories and specialized staff for its development.