Publication:
La invención y la historia en "El caballero de Sajonia", de Juan Benet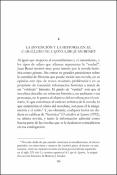 Advisors (or tutors)
Editors
Abstract
La última novela publicada por Juan Benet fue El caballero de Sajonia (1992), una ficción histórica que trata la figura de Martin Lutero, un personaje no muy conocido para el lector común en nuestro pais. Y, no obstante, el texto desafía la noción de "verdad" y el modelo de la novela histórica al presentar pocos hechos importantes en la vida de Lutero, y centrarse, sobre todo, en sus pensamientos tras la ruptura con el Papa y la autoridad de la Iglesia Católica.
The last novel published by Juan Benet, El caballero de Sajonia (1992) is an historical fiction on Martin Luther, not a well known figure to the Spanish common reader. Nonetheless, this text defies the notion of "truth" and the model of the historical novel since it only includes a few facts of Lutero's life, and relies on the character thoughts after his break with the Pope and the Catholic Church.
Collections