Publication:
Biosensores electroquímicos basados en nanomateriales para el análisis de alimentos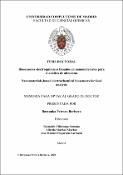 Files
Authors
Advisors (or tutors)
Sánchez Sánchez,, Alfredo
Editors
Publisher
Universidad Complutense de Madrid
Abstract
El análisis de alimentos es una rama muy importante de la Química Analítica, capaz de aportar información relativa a la composición química, procesamiento, control de calidad y contaminación de los productos alimentarios, garantizando la seguridad y protegiendo la salud pública, así como asegurando el cumplimiento de la normativa y las regulaciones del mercado nacional e internacional. Actualmente, el análisis de alimentos se realiza principalmente en laboratorios, mediante el empleo de ensayos de Química Analítica y microbiológicos. Sin embargo, estos ensayos requieren habitualmente un tiempo considerado y una amplia experiencia para realizarlos, y no se pueden reproducir de forma sencilla en análisis de campo. En este contexto, los biosensores electroquímicos son una alternativa prometedora frente a métodos tradicionales para el análisis de alimentos. Estos biosensores permiten la determinación de los componentes y contaminantes de los alimentos en el lugar de muestreo, de una forma rápida, sensible, selectiva, simple y económica, mediante el uso de instrumentos portátiles y sensores miniaturizados. Asimismo, el rendimiento analítico de estos dispositivos electroquímicos puede ser mejorado notablemente mediante el empleo de nanomateriales avanzados como elementos de transducción, señalización o captura...
Food analysis is a very important branch of Analytical Chemistry, able to provide information about chemical composition, processing, quality control and contamination of food stuffs, ensuring safety and protection of public health, but also guaranteeing compliance with international and national standards and market regulations. Nowadays, food analysis is mainly performed at lab environments by using Analytical Chemistry and microbiological tests. However, these tests often take considerable time and expertise to execute, and cannot be replicated easily in the field. In this context, electrochemical biosensors are promising alternatives to traditional methods for food analysis. These biosensors allow fast, sensitive, selective, simple and cost-effective determination of food components and contaminants at the place of sampling, by using portable instruments and miniaturized sensors. In addition, the analytical performance of these electrochemical devices can be significantly improved by using advanced nanomaterials as transduction, signaling or capturing elements...
Description
Tesis inédita de la Universidad Complutense de Madrid, Facultad de Ciencias Químicas, Departamento de Química Analítica, leída el 20-02-2020
Collections