Publication:
Estudio integral de las versiones de José Ángel Valente: lecturas para una poética y una estética de su poesía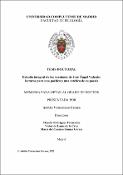 Files
Authors
Editors
Publisher
Universidad Complutense de Madrid
Abstract
El aspecto más destacable de la labor traductora de José Ángel Valente (Orense, 1929 - Ginebra, 2000) es el sentimiento de afinidad literaria y reconocimiento propio con el texto traducido. Desde esta perspectiva, el ejercicio de las versiones supone un buscado diálogo poético con aquellas voces de la poesía que representan su mismo pensamiento literario. Por eso, en este trabajo titulado Estudio integral de las versiones de José Ángel Valente. Lecturas para una poética y una estética de su poesía, se plantea la siguiente tesis: el conocimiento de esos textos traducidos supone una lectura paralela y complementaria de su trayectoria poética. A lo largo de su carrera literaria, Valente se ha mostrado como un poeta y pensador comprometido con una idea clara de la poesía: introducir la palabra en el terreno de la verdad, entendida esta última en su sentido de revelación. Su doctrina queda, pues, reflejada tanto en su producción lírica, ensayística y narrativa, como en sus versiones. No se distancia, por lo tanto, sea en su obra original, sea en la traducida, del compromiso ético que asume como escritor, ni de su idea de la poesía como una vía de conocimiento de la realidad oculta. Así, en la presente tesis se pretende aportar los argumentos que permiten a José Ángel Valente reflejar en la elaboración de las versiones los mismos temas, motivos, preocupaciones e intereses que persigue en su propia escritura...
The most remarkable aspect of José Ángel Valente's translating work (Orense, 1929 – Geneva, 2000) is the feeling of literary affinity and self-recognition with the translated text. From this perspective, the exercise of the versions implies a wanted poetic dialogue with those voices of poetry that represent the same literary thought. Therefore, in this work entitled Integral Study of the Versions of José Ángel Valente. Readings for a poetics and an aesthetics of his poetry, is proposed the following thesis: knowing these translated texts presupposes a parallel and complementary knowledge of his poetic trajectory.Throughout his literary career, Valente has shown himself as a poet and thinker committed to a clear idea of poetry: to introduce the word into the realm of truth, understood the latter in its sense of revelation. His doctrine is thus reflected both in his lyrical, essayistic and narrative production, as well as in his versions. He does not, therefore, distance himself, either in his original work or in his translation, from the ethical commitment he assumes as a writer, or from his idea of poetry as a way of understanding the hidden reality. Thus, this thesis seeks to provide the arguments that allow José Ángel Valente to reflect in the elaboration of his versions the same themes, motives, concerns and interests that he pursues in his own writing...
Description
Tesis inédita de la Universidad Complutense de Madrid, Facultad de Filología, leída el 18-02-2022
Collections