Publication:
Evaluación con perspectiva de género: una evaluación de mayor calidad, alcance y rigor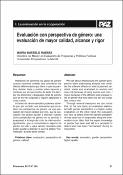 Authors
Advisors (or tutors)
Editors
Publisher
Movimiento por la Paz, el Desarme y la Libertad
Abstract
Hablamos de ponernos las gafas de género cuando hacemos análisis que consideran los efectos diferenciados que tiene lo que se planifica, decide, hace y evalúa sobre mujeres y hombres por el mero hecho de serlo. Es decir, por los diferentes y desiguales roles de género que se les han asignado y siguen asignando a unas y otros. A través de varios ejemplos podemos advertir que, por un lado, una evaluación que se realice con perspectiva de género, es una evaluación de mayor calidad; por otro, que la evaluación nos puede ayudar a detectar cuándo dicha perspectiva de género se ha perdido o evaporado a lo largo del ciclo de intervención. Igualmente, que el conocimiento experto de género ha sido y sigue siendo necesario para poder ayudar a detectar lo que ha estado "normalizado" durante tanto tiempo.
We talk about emphasizing the gender-perspective when elaborating analysis that consider the different effects on what is planned, decided, made and evaluated on women and men only because of being women and men. I mean, because of the different and unequal roles of gender that has been and still are assigned to each one. Through several examples we can notice that, on the one hand, an evaluation elaborated with gender perspective is a higher quality evaluation; on the other hand, the evaluation can help us detect when the gender perspective has been lost or evaporated along the intervention cycle. Also, that the expert knowledge of gender has been and still is a necessity to detect what has been "normalised" during so many time.
Collections