Publication:
Assessing the Antarctic sea-level contribution from the Last Glacial Period to the future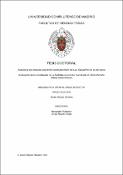 Authors
Advisors (or tutors)
Editors
Publisher
Universidad Complutense de Madrid
Abstract
Sea-level rise is one of the biggest threats to modern humankind. The AntarcticIce Sheet (AIS) plays an important role in future projection, as it is the largest ice sheet on Earth, and hence the potential major contributor. However, as putin the Intergovernmental Panel on Climate Change (IPCC) fth report, the AISis also the largest source of uncertainty to sea-level rise. Part of this uncertainty arises due to uncertain future projections. Another source relies on the underlying mechanisms that drive the evolution of large continental ice sheets. Basal frictionas well as ice-ocean interactions are probably one of the most important, and yet unknown, building blocks in de ning the evolution of the AIS. This occurs because basal and sub-shelf processes are compounded into complex systems which are highly unconstrained. Through satellite observations it is possible to infer properties of these features but it does not give information about how it evolved in the past or the future. A way to gain insight into sub-shelf melting and basal friction, as well as future projections, is through paleo-modeling studies. Paleo-modeling studies are essential tools, as they allow not only analysis of the behaviour of ice sheets under past climatologies, but also to investigate the role of dierent features, such as ice dynamics, and compare with proxy data...
Una de las consecuencias del aumento de temperaturas por emisiones antropogénicas es la subida del nivel del mar causada por el deshielo. La Antártida juega un papel importante en la predicción de estimaciones de aumento del nivel del mar ya que es el mayor manto de hielo de la Tierra. Sin embargo, según el quinto informe del Panel Intergubernamental de expertos del Cambio Climático, la Antártida es también la mayor fuente de incertidumbre a este respecto. Esta incertidumbre esta asociada por una parte al aumento de las temperaturas atmosféricas y oceánicas en los próximos años y por otra parte al hecho de que los modelos de mantos glaciares no resuelven todos los mecanismos subyacentes con precisión. En particular, la fricción que ejerce el lecho rocoso sobre el glaciar, así como las interacciones hielo-océano constituyen dos componentes básicos que no están representados correctamente en modelos de hielo. A través de observaciones de satélite es posible inferir propiedades en la base de mantos glaciares, sin embargo, no permiten obtener información sobre la evolución pasada o futura. Una forma de profundizar las interacciones hielo-océano y fricción basal es a través de estudios de paleo modelización. Estos estudios constituyen herramientas esenciales ya que no solo permiten analizar la evolución de los mantos de hielos a otros climas, sino también la sensibilidad de diferentes parámetros y comparar con datos observacionales...
Description
Tesis inédita de la Universidad Complutense de Madrid, Facultad de Ciencias Físicas, leída el 18/12/2020
Collections