Publication:
Anatomías míticas: el caso de Agustín Luengo Capilla, "El Gigante Extremeño"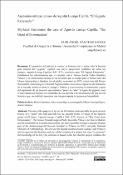 Advisors (or tutors)
Editors
Abstract
El propósito del artículo es revisar la historia vital y sobre todo la historia post mórtem del "gigante" español con mayor proyección mediática de todos los tiempos: Agustín Luengo Capilla (1849-1875), conocido como "El Gigante Extremeño". Estudiamos las circunstancias que le vinculan con el famoso doctor Pedro González Velasco y la consecuencia última de esa relación: que su cuerpo pase a formar parte del Museo Antropológico fundado por el médico segoviano en 1875, actual sede del Museo Nacional de Antropología en Madrid. Seguidamente, analizamos el proceso de formación de la leyenda creada en torno a Luengo y Velasco y cuestionamos la orientación y parte del argumento de un proyecto que pretende "poner en valor" la figura del gigante, pues lo hace dando por buenos los contenidos de esa leyenda y las invenciones de una novela histórica que, en realidad, presentan una imagen espuria del personaje biografiado.
The aim of this paper is to revise the life history and especially the post mortem history of a "giant" who had and still has the greatest media coverage of the Spanish giants of all times: Agustín Luengo Capilla (1849-1875), known as "The Giant from Extremadura". The famous Spanish surgeon Pedro González Velasco met him in Madrid, and the result derived from that relationship was really peculiar: Luengo's remains became part of the Anthropological Museum founded by Velasco in 1875, currently National Museum of Anthropology. We analyze the legend created around Luengo (and Velasco) and we question the direction and part of the contents of a project that aims "to promote" the knowledge of his life. Our criticism is based on the fact that the project validates thelegend and the inventions of a recently published novel about the giant, and on the fact that both narratives just offer a spurious image of him.
Collections