Publication:
El naufragio de la medusa. Una alegoría sobre el capitalismo en tiempos de capitalismo flexible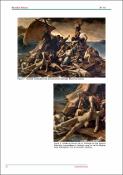 Authors
Advisors (or tutors)
Editors
Publisher
Tehura Asociación Cultural Iberoamericana
Abstract
Este texto plantea una hipótesis hermenéutica sobre el cuadro de Géricault El naufragio de la Medusa de 1819. Desarrollo una interpretación en términos de una filosofía del arte en la cual la figura del anciano que sostiene un cadáver funciona como alegoría del estoicismo y la balsa como metáfora del capitalismo flexible. Para ello, el texto se estructura en tres partes. En primer lugar, aporto una contextualización histórica del cuadro y –contra la tesis del canibalismo de Rose-Marie y Rainer Hagen– interpreto la gestualidad del anciano como símbolo de la filosofía del Sileno propia del estoicismo de Séneca. En segundo término, explico la noción de capitalismo flexible a través de Sennett, Lipovetsky, Nietzsche y Bermann, aplicándola a la escenografía de El naufragio de la Medusa. En último término, recupero la noción de razón desvalida con la que Zambrano interpreta el estoicismo, para plantear una revalorización de esta posición ética como modo de heroísmo trágico en el contexto del capitalismo flexible.
This text presents an hermeneutical hypothesis on Gericault's painting The raft of the Medusa (1819). Within the framework of Philosophy of Art I develop an interpretation of the painting, in which the figure of the elderly man who holds a cadaver works as an allegory of stoicism and the raft as a metaphor of flexible capitalism. The text is structured in three parts. Firstly, I contextualize the painting historically and, against Rose-Marie and Rainer Hagen's thesis on cannibalism, I interpret the gesture of the old man as a symbol of the Silenus' philosophy proper to Seneca's stoicism. Secondly, I explain the meaning of the term "flexible capitalism" following Sennett, Lipovetsky, Nietzsche and Bermann, and I apply this meaning to the picture. Lastly, I recover Zambrano's concept of stoic "defenseless reason" in order to propose a revaluation of stoical ethics as a way of tragic heroism in the context of flexible capitalism.
Collections