Publication:
Una aplicación del AHP para la obtención de las preferencias de los estudiantes sobre las competencias en educación superior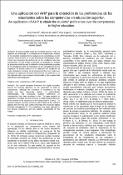 Advisors (or tutors)
Editors
Abstract
El marco europeo actual de enseñanza superior centra sus objetivos de aprendizaje en la adquisición de competencias. Aunque se ha estudiado ampliamente la evaluación de competencias en este contexto, hasta la fecha no se han desarrollado metodologías multi-criterio que incorporen las preferencias de los estudiantes sobre las competencias. En este trabajo se presenta una aplicación del análisis de jerarquías analíticas para la obtención de las preferencias grupales de los estudiantes sobre la importancia de las competencias de una asignatura. El análisis empírico se ha realizado con estudiantes de cuatro titulaciones distintas de la Universidad Rey Juan Carlos que comparten la asignatura Dirección Financiera II. Las preferencias se han obtenido sobre cinco competencias generales y dos competencias específicas de esta asignatura.
The current European framework for higher education focuses the learning objectives on the acquisition of skills or competencies. Although the evaluation of competences in this context has been extensively studied, no multi-criterion methodologies, that incorporate students' preferences on competencies, have been developed so far. This paper presents an application of analytic hierarchy process to obtain group preferences of the students on the importance of the competences in a course. The empirical analysis has been carried out with students of four different degrees from the Rey Juan Carlos University who share the subject Financial Management II. The preferences have been obtained on five general competences and two specific competences of this subject.