Publication:
La cuestión funeraria islámica: el "enquistado" caso de la metrópolis madrileña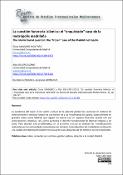 Advisors (or tutors)
Editors
Publisher
Universidad Autónoma de Madrid
Abstract
La pandemia del covid-19 ha vuelto a situar en la palestra pública las carencias en materia de enterramiento y servicios funerarios que tienen los y las musulmanas en España, especialmente en grandes urbes como Madrid, que siguen sin contar con un espacio funerario acorde con sus prescripciones religiosas, tal y como garantiza el derecho fundamental de libertad religiosa y de culto. Para abordar esta problemática, en el presente artículo se analizan las reivindicaciones realizadas por las comunidades musulmanas en el marco de los derechos de ciudadanía y el derecho a la ciudad, atendiendo principalmente a las prácticas y discursos de los distintos actores implicados.
The covid-19 pandemic has put the deficiencies related to burial and funeral services for Muslims in Spain back into the public arena, especially in large cities such as Madrid, which still do not have a burial space in accordance with Islamic religious requirements, as guaranteed by the fundamental right to freedom of religion and worship. To address this problem, this article analyzes the claims made by Muslim communities in the framework of citizenship rights and the rights to the city, focusing on the practices and discourses of the different actors involved.
Collections