Publication:
Validación de la versión española de los cuestionarios "Movement Imagery Questionnaire-Revised Second Edition" (MIQ-RS) y "Kinesthetic and Visual Imagery Questionnaire" (KVIQ) en personas con Enfermedad de Parkinson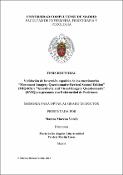 Files
Authors
Advisors (or tutors)
Editors
Publisher
Universidad Complutense de Madrid
Abstract
La Enfermedad de Parkinson (EP) es una común patología neurodegenerativa caracterizada por sus síntomas motores y no motores, de marcado carácter heterogéneo, y su curso clínico crónico y progresivo. Las personas con EP presentan alteraciones del control motor, aunque mantienen su capacidad de aprendizaje. La Imagen Motora (IM) es la representación mental de un movimiento sin que haya ejecución motora real, un proceso cognitivo activo durante el que la acción motora es internamente representada a través de la memoria de trabajo. Puede utilizarse como técnica de aprendizaje motor puesto que activa áreas encefálicas similares a la ejecución motora, y su efectividad clínica se está estudiando en personas con EP. La capacidad de una persona de imaginar se ha descrito como un factor condicionante de la efectividad de la IM. La capacidad de realizar IM puede evaluarse mediante herramientas directas e indirectas. Entre las indirectas, los cuestionarios psicométricos se centran en valorar la intensidad con la que el sujeto experimenta la imagen (viveza), con diferenciación según la modalidad sensorial (visual o cinestésica). Entre ellos, los más utilizados son el Movement Imagery Questionnaire-Revised Second Edition (MIQ-RS) y el Kinesthetic and Visual Imagery Questionnaire (KVIQ). El cuestionario KVIQ puede administrarse en diferentes versiones en función del número de ítems utilizados en la evaluación (34 si la evaluación es bilateral, 20 si es unilateral y 10 en su versión reducida). Estos instrumentos han demostrado su validez biológica en personas sanas, pero su uso en personas con EP debe acreditarse en términos de validez y fiabilidad...
Parkinson's Disease (PD) is a common neurodegenerative pathology characterized by its markedly heterogeneous motor and nonmotor symptoms and its chronic and progressive clinical course. People with PD exhibit motor control disturbances, although maintain their learning ability.Motor Imagery (MI) is the mental rehearsal of a movement without a physical motor execution. It is an active cognitive process during which motor action is internally represented through working memory. It can be used as a motor learning technique due to it shares brain loci with physical motor execution. Its clinical use is being assessed in people with PD, and the person's MI ability has been described as a factor of MI training effectiveness. MI ability can be evaluated with direct and indirect methods. Regarding indirect methods, psychometric questionnaires are focused on quantifying the intensity with which the subject perceives MI (i.e., vividness), with a clear differentiation between sensory modalities (visual or kinesthetic). One of the most frequently used questionnaires are the Movement Imagery Questionnaire-Revised Second Edition (MIQ-RS) and the Kinesthetic and Visual Imagery Questionnaire (KVIQ). The KVIQ has three versions depending on the number of items used during the assessment (34 if bilaterally assessed, 20 if unilaterally or 10 if the short version is administered). These instruments have proved their biological validity in healthy people, but their use in people with PD must be ascertained in terms of validity and reliability...
Description
Tesis inédita de la Universidad Complutense de Madrid, Facultad de Enfermería, Fisioterapia y Podología, leída el 10-06-2021
Collections