Publication:
La cuentística de Juan Carlos Onetti: una aproximación al existencialismo desde la praxis literaria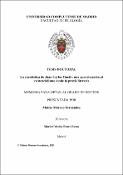 Files
Authors
Advisors (or tutors)
Editors
Publisher
Universidad Complutense de Madrid
Abstract
El estudio presentado versa sobre el análisis de los cuentos del escritor uruguayo Juan Carlos Onetti desde la perspectiva filosófica del existencialismo. El origen de esta investigación viene marcado por la inquietud de ofrecer un estudio que englobe el conjunto de los cuentos de Onetti desde una postura eminentemente filosófica. Si bien profundizar en la obra de los escritores del siglo XX desde la óptica existencialista no es un asunto en absoluto novedoso, sí que ha sido necesario profundizar en la obra de los cuentos de Onetti desde una visión holística. Se ha comprobado al respecto cómo las investigaciones que ofrecen una interpretación global de sus cuentos son prácticamente inexistentes; estos cuentos únicamente han sido interpretados mediante trabajos parciales, conferencias y artículos, pero no han sido ampliamente tratados con la rigurosidad y la precisión que realmente merecen...
The present study is about the analysis of the stories of the Uruguayan writer Juan Carlos Onetti from the philosophical perspective of existentialism. The origin of this research is marked by the concern to offer a study that encompasses all of Onetti's stories from an eminently philosophical position. While deepening the work of 20th century writers from an existentialist perspective is not at all a new issue, it has been necessary to deepen the work of Onetti's stories from a holistic viewpoint. It has been proven that a research offering a global interpretation of his stories is practically non-existent. These stories have only been interpreted through partial works, conferences and articles, but they have not been widely treated with the rigor and precision they really deserve...
Description
Tesis inédita de la Universidad Complutense de Madrid, Facultad de Filología, leída el 12-01-2021. Tesis restringida por expreso deseo del autor.
Collections