Publication:
Factores de riesgo de la conducta antisocial en menores en situación de exclusión social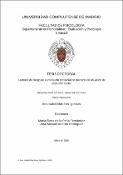 Files
Authors
Advisors (or tutors)
Editors
Publisher
Universidad Complutense de Madrid
Abstract
Cuando hacemos referencia a la conducta antisocial nos referimos a una serie de comportamientos que infringen las normas o leyes establecidos; en el momento actual con una repercusión a nivel individual, clínico, familiar y a nivel social esto nos lleva a tener que poner mucho más empeño en poder poner de manifiesto la necesidad de estudiar aquellos factores de riesgo que está influyendo en dicha conducta. Numerosos son los estudios que se han llevado a cabo sobre este asunto por distintos autores y conocedores de la materia, y en este recorrido ya se han podido vislumbran muchos factores no solo de riesgo sino de protección, que pueden llevarnos a comprender y entender de un modo más claro y conciso la naturaleza del fenómeno que estamos abordando. A pesar de todo lo anterior no existe, hasta el momento suficiente consenso sobre la conceptualización de la conducta antisocial, dado por ser un constructor complejo y su uso en la investigación es frecuentemente ambiguo ya que, en no pocas ocasiones, se emplea haciendo alusión a diferentes conductas sin una clara delimitación terminológica (Rutter, Giller y Hagell, 2000). En general, la conducta antisocial hace referencia a una diversidad de actos que generan daño en los demás, frecuentemente en forma de agresión, o que violan las normas sociales y los derechos de los demás (Burt y Donnellan, 2009; Peña y Graña, 2006). Sin embargo, el que una conducta se conceptualice como antisocial también está en función del juicio o valoración social acerca de la gravedad de los actos cometidos y de su alejamiento de las pautas normativas en una sociedad en concreto (Kazdin y Buela-Casal, 2002). En esta valoración intervienen multitud de factores tales como la edad del menor, su sexo, la clase social y otras circunstancias socio-contextuales (Pahlavan y Andreu, 2009; Romero, Sobral y Luengo, 1999; Vázquez, 2003)...
When we make a reference to an antisocial conduct we are talking about certain behaviour that breaks the rules or the laws; nowadays, with a clear impact at individual, clinical, familiar and social level it is necessary to invest our efforts to underline the need to study those risk factors having influence in the above mention behaviour. Research works, by differents authors, give a glimpse of not only the risk factors but also those of protectives that lead us to understand in a clear and concise way the essence of the phenomenon we are dealing with. So far and despite all, there is no a general and accepted agreement about the conceptualization of the antisocial behaviour due to, in one hand, the complex of the assumption and in the other, an ambiguous use in research lines because in many times it is used to refer differents behaviours without a clear terminological delimitation (Rutter, Giller and Hagell 2000). In general, the term antisocial behaviour refers to a series of harmful acts, frequently in form of aggressions, assaults or acts causing offence to the social rules and rights (Burt and Donnellan, 2009; Peña and Graña, 2006). Nevertheless, the conceptualization of a behaviour as antisocial depends on the social assessment of the seriousness of the acts and its distance to the accepted rules of a society or community (Kazdin and Buela-Casal, 2002). The age of the minor, gender, social status and other social factors have a relevant incidence in the diagnostic assessment (Pahlavan and Andreu, 2009; Romero, Sobral and Luengo, 1999; Vazquez, 2003)...
Description
Tesis inédita de la Universidad Complutense de Madrid, Facultad de Psicología, Departamento de Personalidad, Evaluación y Psicología Clínica I, leída el 04/02/2016
Collections