Publication:
Intermediality, Rewriting Histories, and Identities in French Rap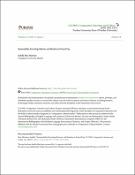 Authors
Advisors (or tutors)
Editors
Abstract
In her article "Intermediality, Rewriting Histories and Identities in French Rap" Isabelle Marc Martínez analyzes aspects of French hip hop culture. As an example of resistant cultural manifestations, hip hop scenes all over the world develop strategies to subvert mainstream values and to replace them by new de-localized, contesting identities via intermedial and intertextual processes. In France during the 1990 rap was intended to reassess French national history and national selfperception. Foundational hip hop bands such as Assassin, Ministère AMER, IAM, and NTM aimed at discrediting official narratives concerning the French culture's colonial and social past. hip hop artists, who viewed themselves as poets in a romantic vein, invested themselves with a responsibility that was political, ethical and aesthetic. From this position of poetic superiority, they attempted to alter official narratives by questioning and reviewing the educational system of France. The outcome of these resistant strategies was the forging of new multicultural and multiethnic identities of French culture, which have been in fact partly appropriated by mainstream culture and politics.
En su artículo "intermedialidad, Reescribiendo las identidades e historias en el rap francés" Isabelle Marc Martínez analiza aspectos de la cultura hip hop francés. Como un ejemplo de manifes- culturales resistente taciones, hip hop escenas en todo el mundo a desarrollar estrategias para subvertir los valores dominantes y para volver colocarlos por las nuevas identidades, que disputan deslocalizadas a través de procesos intermedial e intertextuales. En Francia durante el rap 1990 tenía la intención de volver a evaluar la historia nacional francesa y autodeterminación nacional percepción. Bandas de hip hop fundacionales como Assassin, Ministère AMER, IAM y NTM destinadas a desacreditar narrativas oficiales sobre el pasado colonial y social de la cultura francesa. artistas de hip hop, que vieron a sí mismos como poetas en una vena romántica, invertido a sí mismos con una responsabilidad que era político, ético y estético. Desde esta posición de superioridad poética, intentaron alterar narrativas oficiales por cuestionar y revisar el sistema educativo de Francia. El resultado de THE- estrategias resistentes SE fue la forja de nuevas identidades multiculturales y multiétnicos de la cultura francesa, los cuales han sido, de hecho, en parte apropiada por la cultura dominante y la política
Collections