Publication:
Desarrollo de modelos experimentales murinos para la evaluación preclínica de nuevos tratamientos en tumores hematológicos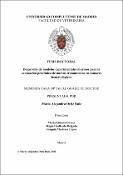 Authors
Advisors (or tutors)
Editors
Publisher
Universidad Complutense de Madrid
Abstract
El mieloma múltiple es una neoplasia hematológica caracterizada por la acumulación de las células plasmáticas en médula ósea. Representa el 1% de todos los cánceres y su prevalencia se ve agravada por el envejecimiento de la población. A pesar del desarrollo de nuevos tratamientos en los últimos años, el mieloma múltiple permanece como una enfermedad incurable, ya que la mayoría de los pacientes acaban progresando y desarrollando resistencias a los fármacos. La mitocondria juega un papel clave en el desarrollo y adquisición de un fenotipo maligno en neoplasias hematológicas, así como en la resistencia a terapias; sin embargo, su rol en la patogénesis del mieloma múltiple permanece inexplorado. Además, las células cancerígenas muestran determinados cambios metabólicos en su desarrollo, potencialmente como resultado de la desregulación de oncogenes. En mieloma múltiple existen alteraciones cromosómicas recurrentes que pueden derivar en la expresión aberrante de oncogenes como MYC (p. ej. translocaciones). Los cambios metabólicos que ocurren en pacientes con mieloma múltiple se ven afectados directamente por las tratamientos, lo que sugiere la posibilidad intervenir para mejorar las terapias anti-mieloma aprovechando las vías metabólicas que se encuentran alteradas...
Multiple myeloma is a hematological malignancy characterized for the accumulation of plasma cells in the bone marrow. It accounts for 1% of all cancers and the prevalence continues to increase due to the ageing population. Despite the progress in novel therapies over the last years, multiple myeloma still remains an incurable disease, because most of the patients progress and develop drug resistances. Mitochondria plays a key role in the development and acquisition of a malignant phenotype in hematological cancers, as well as resistance to therapies; however, is still unknown the role played in the pathogenesis of multiple myeloma. Moreover, growing cancer cells show certain metabolic features resultant of oncogenes dysregulation. In multiple myeloma many of the recurrent chromosomal alterations result in the aberrant expression of oncogenes such as MYC (e.g. translocations). Metabolic changes that occur in patients with multiplemyeloma are directly affected by therapies, which suggests the possibility to interfere anti-myeloma therapies exploiting altered metabolic pathways...
Description
Tesis inédita de la Universidad Complutense de Madrid, Facultad de Veterinaria, leída el 20-09-2021
Collections