Publication:
La transmisión de los textos científicos de Alfonso X el Sabio: el manuscrito 1197 de la BNE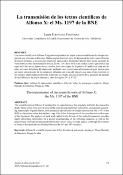 Authors
Advisors (or tutors)
Editors
Abstract
Los textos científicos de Alfonso X siguieron copiándose en mayor o menor medida mucho tiempo después de que el monarca falleciera. Dichas copias formaron parte de algunas de las colecciones librarías de mayor prestigio, y en ocasiones originaron manuscritos de máximo interés, tanto desde un punto de vista artístico como de transmisión textual. El Ms. 1197 de la BNE es un códice facticio que unifica una copia del Libro de las figuras de las estrellas fixas y una copia del Lapidario. El análisis de cada una de ellas, así como la fortuna del manuscrito unificado, nos proporciona información de gran interés para un mayor conocimiento de los originales alfonsíes, así como del impacto que estos textos tuvieron en los círculos intelectuales posteriores. Asimismo su estudio nos guía a través de la gestación de algunas de las bibliotecas de mayor relevancia entre los siglos XVI y XVIII.
The scientific texts of Alfonso X continued to be copied more or less regularly well after the monarch's death. These copies were part of some of the most prestigious library collections, occasionally generating manuscripts of great interest, both artistically and in terms of textual transmission. Ms. 1197 of the BNE is a facticious codex that unifies a copy if the Libro de las figuras de las estrellas fixas with a copy of the Lapidario. The analysis of each work, added to the fortune of the unified manuscript, provides highly interesting information for a greater understanding of the Alfonsine originals, as well as the impact these texts had on subsequent intellectual circles. Also, its study guides us through the creation of some of the most relevant libraries between the 16th and 18th centuries.
Collections