Publication:
Cuotas de género en política y economía: Regulación y configuración institucional en España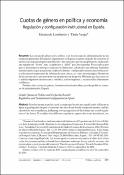 Advisors (or tutors)
Editors
Publisher
Centro de Investigación y Docencia económicas
Abstract
Las cuotas de género en la política y en los consejos de administración de las empresas presentan diferencias importantes en España respecto al grado de coerción, el periodo de implementación establecido y las sanciones por incumplimiento, indicando una regulación "fuerte" para las primeras y "débil" para las segundas. Para explicar por qué se introdujeron enfoques regulativos diferentes, adoptamos un enfoque feminista institucionalista que nos permite analizar la distinta configuración institucional subyacente a los sucesivos procesos de reforma de estas cuotas, así como las estrategias discursivas de los actores clave que apoyaron o se opusieron a su adopción. Mientras que las cuotas en la política siguieron una secuencia armónica, en las empresas la secuencia fue claramente conflictiva.
Gender quotas in politics and in corporate boards are significantly different in Spain regarding their degree of coercion, the time frame for their implementation, and the sanction for non compliance, indicating a strong regulation of the former and a weak regulation of the latter. To explain why different regulatory approaches were introduced, we adopt a feminist institutionalist approach that allows us to analyse the different institutional configuration underpinning the successive quota reform processes as well as the discursive strategies used by the key actors pushing for and resisting their adoption. Whereas quotas in politics followed a harmonizing sequence, in the case of corporate quotas the sequence was clearly disjointed.
Collections