Publication:
Aplicación de la Directiva 2013/59 EURATOM en procedimientos pediátricos de radiología digital y cardiología intervencionista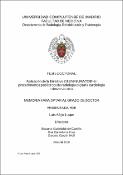 Authors
Advisors (or tutors)
Editors
Publisher
Universidad Complutense de Madrid
Abstract
Desde la publicación el 17 de enero de 2014 de la nueva Directiva 2013/59 EURATOM en el diario oficial de la Unión Europea, que debió haberse transpuesto a las legislaciones nacionales de los países miembros antes del 6 de febrero de 2018, la comunidad científica relacionada con la Protección Radiológica en Medicina, en general, y los Servicios de Física Médica, en particular, han tratado de estudiar sus implicaciones y consecuencias, adaptándolas e nmuchos casos al medio hospitalario concreto en el que se desarrolla la actividad. En el ámbito de la Radiología, tres son las principales novedades incluidas en la Directiva: en primer lugar, la reducción del límite del equivalente de dosis en cristalino de los trabajadores expuestos, de 150 mSv a20 mSv al año, que recoge lo recomendado por ICRP en su declaración de abril de 2011 y en su Publicación 118; segundo, el registro de los parámetros relacionados con las exposiciones médicas de los pacientes y su inclusión en el informe radiológico, determinando la distribución de los indicadores de dosis y la revisión regular y uso de los DRLs, al menos por rangos de edad, con objeto de realizar procesos de optimización dosimétrica sin dilación cuando fuere necesario; y tercero, la ampliación y concreción de las responsabilidades del físico médico (también llamado en España "radiofísico hospitalario") en los procedimientos radiológicos especiales, que incluyen, además de los programas de screening y la tomografía computerizada, las exposiciones médicas pediátricas y los procedimientos de Radiología o Cardiología Intervencionistas, ya que pueden implicar altas dosis de radiación a los pacientes...
On the 17th of January 2014, the European Union published in its official journal the new 2013/59 EURATOM directive, which was to be transposed to the national laws of the member countries before February 6, 2018. Since then, the scientific community related to Radiation Protection in medicine in general, and the departments of medical physics in particular, have studied the directive's implications and consequences, adapting it in many cases to the specific hospital setting in which the activity is conducted. The 3 main developments in the radiology setting included in the directive were 1) reducing the limit of the equivalent dose for the lens of the eye of exposed workers from 150 mSv to 20 mSv per year, which covers the recommendation by the International Commission on Radiological Protection (ICRP) in its April 2011 statement; 2) the registration of parameters related to the patients´medical exposures and the inclusion of these data in the radiological report,determining the distribution of the dose indicators and the regular review and use of diagnostic reference levels (DRLs), at least by age range, in order to conduct dosimetric optimisation processes without delay when necessary; 3) the broadening and specification of the responsibilities of medical physicists (also called "radiofísico hospitalario" in Spain) in special radiological procedures, which include screening programs, computed tomography, paediatric medical exposures and radiology and cardiology interventional procedures, that can involve patient exposure to high doses of radiation...
Description
Tesis de la Universidad Complutense de Madrid, Facultad de Medicina, Departamento de Radiología, Rehabilitación y Fisioterapia, leída el 20-12-2018
Collections