Publication:
Tailoring the Molecular Skeleton of Aza-BODIPYs to Design Photostable Red-Light-Emitting Laser Dyes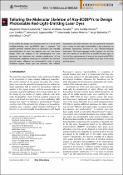 Authors
Avellanal Zaballa, Edurne
García Moreno, Inmaculada
Ortíz García, María Josefa
Advisors (or tutors)
Editors
Abstract
In this article the design and characterization of a set of novel red‐light‐emitting laser aza‐BODIPY dyes is reported. The applied synthetic method allows an exhaustive and versatile functionalization of both the dipyrrin core and the boron bridge. From the analysis of the photophysical and laser signatures, we determine the suitable modifications of the chromophoric backbone necessary to modulate the emission spectral region, efficiency and photostability under a strong irradiation regime. These dyes are endowed with efficient fluorescence and laser emission, and are particularly outstanding in terms of their high photostability, a key parameter to guarantee long‐lasting emission in any (bio)technological application. The herein‐reported results support, for the first time, the viability of aza‐BODIPYs as tunable red laser dyes. In fact, the laser performances of some of the tested aza‐BODIPYs surpass those of commercially available laser dyes in the same spectral region.
Collections