Publication:
Evolución de la televisión mediante HbbTV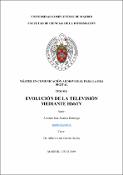 Authors
Advisors (or tutors)
Editors
Abstract
La televisión a lo largo de su historia, ha sido un elemento lineal mostrando una programación sujeta a determinados horarios y contenidos impuestos por la cadena televisiva. Internet, ha ofrecido la posibilidad de disfrutar de un producto audiovisual en cualquier momento cambiando de manera significativa tanto el modo de consumo como el modelo de negocio de las empresas audiovisuales provocado por el auge de las OTT (Over The Top). HbbTV (Hybrid Broadcast Broadband Television), aúna la convergencia de la televisión e internet ofreciendo múltiples funcionalidades interactivas suponiendo un cambio en el concepto de consumo y distribución de contenidos audiovisuales televisivos.
Television throughout its history, has been a linear element showing a schedule holded on certain times and contents imposed by the television network. The arrival of internet, has offered the possibility of enjoying an audiovisual product at any time changing significantly both, on the one hand, the mode of consumption and, on the other, the business model of audiovisual companies, caused by the rise of the OTT (Over The Top). HbbTV (Hybrid Broadcast Broadband Television), combines the convergence of television and the internet, offering multiple interactive features that involve a change in the concept of consumption and distribution of television audiovisual content.