Publication:
Los proyectos de Napoleón y de José Bonaparte para la convocatoria de unas Cortes en Madrid (1808-1812)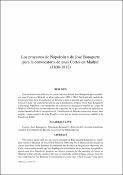 Advisors (or tutors)
Editors
Publisher
Boletín Oficial del Estado (BOE)
Abstract
Se trata de un extenso artículo de 105 páginas sobre los sucesivos intentos de Napoleón y del rey José Bonaparte para establecer unas Cortes en Madrid, en el periodo entre 1808 y 1812. Partiendo del modelo de Cortes previsto en la Constitución de Bayona de 1808, ante la presión que suponía la convocatoria de las Cortes de Cádiz y la elaboración allí de una Constitución, el rey José Bonaparte y más tarde Napoleón, emperador de los franceses, van a diseñar sucesivos proyectos para reunir unas Cortes en Madrid, al hilo de los acontecimientos de la Guerra. El artículo muestra la evolución de los modelos de Cortes propuestos, desde el inicial de la Constitución de Bayona hasta uno más amplio, que deseaba reunir unas Cortes representativas de toda España, con el deseo de incorporar también a la España de Cádiz. El origen del artículo está en la localización de un documento inédito con origen en Napoleón que recogía una propuesta de convocatoria de Cortes, localizado por el autor en en los Archivos Nacionales en París, en el Fondo José Bonaparte.
Il s'agit d'un article détaillé de 105 pages sur les tentatives successives de Napoléon et du roi Joseph Bonaparte d'établir des Cortes à Madrid entre 1808 et 1812. À partir du modèle de Cortès envisagé dans la Constitution de Bayonne de 1808, face à la pression pour convoquer les Cortès de Cadix et y rédiger une Constitution, le roi Joseph Bonaparte et plus tard Napoléon, empereur des Français, conçoivent des projets successifs pour convoquer des Cortès à Madrid, en fonction des événements de la guerre. L'article montre l'évolution des modèles de Cortès proposés, du modèle initial de la Constitution de Bayonne à un modèle plus large, qui souhaitait réunir une Cortès représentative de toute l'Espagne, avec la volonté d'incorporer également l'Espagne de Cadix. L'origine de l'article réside dans la localisation d'un document inédit provenant de Napoléon et contenant une proposition de convocation de Cortès, localisé par l'auteur aux Archives nationales de Paris, dans le Fonds Joseph Bonaparte.
This is an extensive 105-page article on the successive attempts by Napoleon and King Joseph Bonaparte to establish a Cortes in Madrid, in the period between 1808 and 1812. Starting from the model of Cortes foreseen in the Constitution of Bayonne of 1808, in the face of the pressure of the convocation of the Cortes of Cadiz and the elaboration of a Constitution there, King Joseph Bonaparte and later Napoleon, Emperor of the French, will design successive projects to convene a Cortes in Madrid, in line with the events of the War. The article shows the evolution of the proposed Cortes models, from the initial one of the Constitution of Bayonne to a broader one, which wished to gather a Cortes representative of all Spain, with the desire to incorporate also the Spain of Cadiz. The origin of the article lies in the location of an unpublished document originating in Napoleon that contained a proposal to convene a Cortes, located by the author in the National Archives in Paris, in the Joseph Bonaparte Fund.
Collections