Publication:
Study of tumor growth indicates the existence of an "immunological threshold" separating states of pro- and antitumoral peritumoral inflammation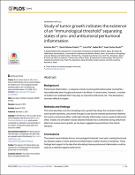 Advisors (or tutors)
Editors
Abstract
Background Peritumoral inflammation—a response mainly involving polimorphonuclear neutrophils—has traditionally been thought protumoral in its effects. In recent years, however, a number of studies have indicated that it may play an important antitumoral role. This discrepancy has been difficult to explain. Methods and findings This work describes a tool for simulating tumor growth that obeys the universal model of tumor growth dynamics, and shows through its use that low intensity peritumoral inflammation exerts a protumoral effect, while high intensity inflammation exerts a potent antitumoral effect. Indeed, the simulation results obtained indicate that a sufficiently strong antitumoral effect can reverse tumor growth, as has been suggested several times in the clinical literature. Conclusions The present result indicate that an 'immunological threshold' must exist, marking the boundary between states in which peritumoral inflammation is either harmful or beneficial. These findings lend support to the idea that stimulating intense peritumoral inflammation could be used as a treatment against solid tumors.
Citation
1.World Health Organization, et al. Global action against cancer; 2005. Available from: http://www.who.it. 2.Mishalian I, Bayuh R, Levy L, Zolotarov L, Michaeli J, Fridlender ZG. Tumor-associated neutrophils (TAN) develop pro-tumorigenic properties during tumor progression. Cancer Immunology, Immunotherapy. 2013;62(11):1745–1756. pmid:24092389 3.Souto JC, Vila L, Bru A. Polymorphonuclear neutrophils and cancer: intense and sustained neutrophilia as a treatment against solid tumors. Medicinal research reviews. 2011;31(3):311–363. pmid:19967776 4.Di Carlo E, Forni G, Lollini P, Colombo MP, Modesti A, Musiani P. The intriguing role of polymorphonuclear neutrophils in antitumor reactions. Blood. 2001;97(2):339–345. pmid:11154206 5.Piccard H, Muschel RJ, Opdenakker G. On the dual roles and polarized phenotypes of neutrophils in tumor development and progression. Critical reviews in oncology/hematology. 2012;82(3):296–309. pmid:21798756 6.Brú A, Pastor JM, Fernaud I, Brú I, Melle S, Berenguer C. Super-rough dynamics on tumor growth. Physical Review Letters. 1998;81(18):4008. 7.Brú A, Albertos S, Subiza JL, García-Asenjo JL, Brú I. The universal dynamics of tumor growth. Biophysical journal. 2003;85(5):2948–2961. pmid:14581197 8.Duffy MJ. The role of proteolytic enzymes in cancer invasion and metastasis. Clinical & Experimental Metastasis. 1992;10(3):145–155. 9.Coumans E. Bullet 2.83 physics SDK manual; 2015. Available from: http://bulletphysics.org/. 10.Nicolson GL. Cancer metastasis: tumor cell and host organ properties important in metastasis to specific secondary sites. Biochimica et Biophysica Acta (BBA)-Reviews on Cancer. 1988;948(2):175–224. 11.Brú A, Souto JC, Alcolea S, Antón R, Remacha A, Camacho M, et al. Tumour cell lines HT-29 and FaDu produce proinflammatory cytokines and activate neutrophils in vitro: possible applications for neutrophil-based antitumour treatment. Mediators of inflammation. 2009;2009(817498). pmid:20169105 View ArticlePubMed/NCBIGoogle Scholar 12.Bhome R, Bullock MD, Al Saihati HA, Goh RW, Primrose JN, Sayan AE, et al. A top-down view of the tumor microenvironment: structure, cells and signaling. Frontiers in cell and developmental biology. 2015;3:33. pmid:26075202 13.Coffelt SB, Wellenstein MD, de Visser KE. Neutrophils in cancer: neutral no more. Nature Reviews Cancer. 2016;16(7):431–446. pmid:27282249 14.Springer TA. Traffic signals on endothelium for lymphocyte recirculation and leukocyte emigration. Annual review of physiology. 1995;57(1):827–872. pmid:7778885 15.Pober JS, Sessa WC. Evolving functions of endothelial cells in inflammation. Nature Reviews Immunology. 2007;7(10):803–815. pmid:17893694 16.Summers C, Rankin SM, Condliffe AM, Singh N, Peters AM, Chilvers ER. Neutrophil kinetics in health and disease. Trends in immunology. 2010;31(8):318–324. pmid:20620114 17.Yan J, Kloecker G, Fleming C, Bousamra M, Hansen R Hu X, et al. Human polymorphonuclear neutrophils specifically recognize and kill cancerous cells. Oncoimmunology. 2014;3(7). 18.Brú A, Albertos S, García-Asenjo JL, Brú I. Pinning of tumoral growth by enhancement of the immune response. Physical review letters. 2004;92(23):238101. pmid:15245196 19.Colombo M, Lombardi L, Stoppacciaro A, Melani C, Parenza M, Bottazzi B, et al. Granulocyte colony-stimulating factor (G-CSF) gene transduction in murine adenocarcinoma drives neutrophil-mediated tumor inhibition in vivo. Neutrophils discriminate between G-CSF-producing and G-CSF-nonproducing tumor cells. The Journal of Immunology. 1992;149(1):113–119. pmid:1376745 20.Cavallo F, Giovarelli M, Gulino A, Vacca A, Stoppacciaro A, Modesti A, et al. Role of neutrophils and CD4+ T lymphocytes in the primary and memory response to nonimmunogenic murine mammary adenocarcinoma made immunogenic by IL-2 gene. The Journal of Immunology. 1992;149(11):3627–3635. pmid:1358974 21.Kokura S, Yoshikawa T, Kaneko T, Iinuma S, Oyamada H, Tainaka K, et al. Role of polymorphonuclear leukocytes (PMN) and active oxygen species in hyperthermia–antitumor effect of hyperthermia combined with rhG-CSF. Gan to kagaku ryoho Cancer & chemotherapy. 1992;19(10 Suppl):1655–1658. 22.Tamamori Y, Sawada T, Nishihara T, Yamashita Y, Ohira M, Ho JJ, et al. Granulocyte-colony stimulating factor enhances chimeric antibody Nd2 dependent cytotoxicity against pancreatic cancer mediated by polymorphonuclear neutrophils. International journal of oncology. 2002;21(3):649–654. pmid:12168113 23.van Spriel AB, van Ojik HH, Bakker A, Jansen MJ, van de Winkel JG. Mac-1 (CD11b/CD18) is crucial for effective Fc receptor–mediated immunity to melanoma. Blood. 2003;101(1):253–258. pmid:12485936 24.Siders WM, Shields J, Garron C, Hu Y, Boutin P, Shankara S, et al. Involvement of neutrophils and natural killer cells in the anti-tumor activity of alemtuzumab in xenograft tumor models. Leukemia & lymphoma. 2010;51(7):1293–1304. 25.Matsumoto Y, Saiki I, Murata J, Okuyama H, Tamura M, Azuma I. Recombinant human granulocyte colony-stimulating factor inhibits the metastasis of hematogenous and non-hematogenous tumors in mice. International journal of cancer. 1991;49(3):444–449. pmid:1717386 26.Brú A, Albertos S, García-Hoz F, Brú I. Regulation of neutrophilia by granulocyte colony-stimulating factor: a new cancer therapy that reversed a case of terminal hepatocellular carcinoma. Journal of Clinical Research. 2005;8:9–13. 27.Hoeller C, Jansen B, Heere-Ress E, Pustelnik T, Mossbacher U, Schlagbauer-Wadl H, et al. Perilesional injection of r-GM-CSF in patients with cutaneous melanoma metastases. J Invest Dermatol. 2001;117:371–374. pmid:11511318 28.Kurbacher C, Kurbacher J, Cramer E, Rhiem K, Mallman P, Reichlt R, et al. Continuous low-dose GM-CSF as salvage therapy in refractory recurrent breast or female genital tract carcinoma. Oncology. 2005;19:23–26. pmid:15934497 29.Su YB, Vickers AJ, Zelefsky MJ, Kraus DH, Shaha AR, Shah JP, et al. Double-Blind, Placebo-Controlled, Randomized Trial of Granulocyte-Colony Stimulating Factor During Postoperative Radiotherapy for Squamous Head and Neck Cancer. The Cancer Journal. 2006;12(3):182–188. pmid:16803675 30.Tabuchi T, Ubukata H, Sato S, Nakata I, Goto Y, Watanabe Y, et al. Granulocytapheresis as a possible cancer treatment. Anticancer research. 1994;15(3):985–990. 31.Cancer Research UK. Causes of cancer. Stress; 2016. http://www.cancerresearchuk.org/about-cancer/causes-of-cancer/cancer-controversies/stress. 32.Ward HN, Reinhard EH. Chronic idiopathic leukocytosis. Annals of internal medicine. 1971;75(2):193–198. pmid:5558646 33.Herring WB, Smith LG, Walker RI, Herion JC. Hereditary neutrophilia. The American Journal of Medicine. 1974;56(5):729–734. pmid:4825608 34.Amgen. Neupogen product information; 2016. http://www.amgen.com/medpro/neupogen_pi.html. 35.Ince H, Petzsch M, Kleine HD, Schmidt H, Rehders T, Körber T, et al. Preservation from left ventricular remodeling by front-integrated revascularization and stem cell liberation in evolving acute myocardial infarction by use of granulocyte-colony–stimulating factor (FIRSTLINE-AMI). Circulation. 2005;112(20):3097–3106. pmid:16275869 36.Cann SH, Van Netten J, Van Netten C, Glover D. Spontaneous regression: a hidden treasure buried in time. Medical hypotheses. 2002;58(2):115–119. 37.Cann SH, Van Netten J, Van Netten C. Dr William Coley and tumour regression: a place in history or in the future. Postgraduate medical journal. 2003;79(938):672–680. 38.Ruckdeschel JC, Codish SD, Stranahan A, McKneally MF. Postoperative empyema improves survival in lung cancer: documentation and analysis of a natural experiment. New England Journal of Medicine. 1972;287(20):1013–1017. pmid:4650967 39.Rentsch CA, Birkhäuser FD, Biot C, Gsponer JR, Bisiaux A, Wetterauer C, et al. Bacillus Calmette-Guérin strain differences have an impact on clinical outcome in bladder cancer immunotherapy. European urology. 2014;66(4):677–688. pmid:24674149 40.Lamm DL, Blumenstein BA, Crawford ED, Montie JE, Scardino P, Grossman HB, et al. A randomized trial of intravesical doxorubicin and immunotherapy with bacille Calmette–Guerin for transitional-cell carcinoma of the bladder. New England Journal of Medicine. 1991;325(17):1205–1209. pmid:1922207 41.Saint F, Patard JJ, Irani J, Salomon L, Hoznek A, Legrand P, et al. Leukocyturia as a predictor of tolerance and efficacy of intravesical BCG maintenance therapy for superficial bladder cancer. Urology. 2001;57(4):617–621. pmid:11306359 42.Siracusano S, Vita F, Abbate R, Ciciliato S, Borelli V, Bernabei M, et al. The role of granulocytes following intravesical BCG prophylaxis. European urology. 2007;51(6):1589–1599. pmid:17222501
Collections