Publication:
Adaptación española de la Escala de Actitudes Disfuncionales (DAS) de Beck: propiedades psicométricas y clínicas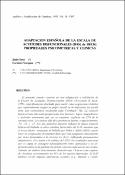 Authors
Vázquez Valverde, Carmelo
Advisors (or tutors)
Editors
Abstract
El presente estudio consiste en una adaptación y validación de la Escala de Actitudes Disfuncionales (DAS) (Weissman y Beck, 1978; Weissman, 1979), epecíficamente diseñada para medir estas cogniciones latentes que supuestamente desempeñan un papel causal en la depresión. La escala tiene una consistencia moderada (alfa de Cronbach = .84). La solución factorial más adecuada proporcionó tres factores: Logro, Dependencia y Actitudes Autónomas que, en su conjunto, explicaban un 27% de la varianza total. Los índices alfa de consistencia interna fueron, respectivamente, .79, .72 y .39. Los dos prímeros factores reflejan la típica solución bifactorial hallada en otros estudios factoriales de la DAS, mientras que el tercer factor --semejante al hallado por Sahín v Sahin (1992)-- puede tener un componente artefactual dado que está compuesto básicamente por ítems formulados a la inversa (es decir, reflejando pensamientos adaptativos). En cuanto a la validez de la DAS, los resultados muestran que es capaz de distinguir adecuadamente entre personas deprimidas y no deprimidas tanto en la puntuación global como en cada una de las escalas. Además, un análisis discriminante demostró que 19 ítems eran capaces de clasificar correctamente a un 85% de los sujetos deprimidos. La DAS también reveló algunas diferencías sexuales (e.g., Barnett v Gotlib, 1990;): los hombres tienden a manifestar más actitudes disfuncionales relacionadas con el logro que las mujeres. Se discuten las ventajas y limitaciones de la DAS tanto en la investigación básica como en su uso en la clínica aplicada.
In the present study we report a factorial analysis and validation of the Dysfunctional Attitude Secale (DAS; Weissman & Beck, 1978; Weissman, 1979) in a sample of Spanish university students. The DAS is a 40-item instrument aimed at measuring one of the central elements of Beck's cognitive theory of emotional disorders: latent cognitive structure which predispose to emotional problems. The results from the Spanish version yielded a good internal consitency index for its total score (Cronbach's alpha = .84). A rotated 3-factor solution fitted well our data: the first factor was one related to Achievement (alpha = .79), the second one was related to Dependency (alpha = .72), and the third factor was called Autonomous attitudes (e.g., independent judgments regardless others' criticisms; alpha = .39). These three uncorrelated factors accounted for 27% of the total variance. Whereas the first two factors are virtually identical to those found in other factorial studies on the DAS, the third one is similar to that found by Sahin and Sahin (1992) as it basically includes positively worded items (e.g., expressing positive, adaptative attitudes), which might be interpreted as an artifact of the scale itself. As expected, depressed subjects scored higher than nondepressed both in the DAS total score and in each of the DAS subscale scores. Furthermore, a discriminant analysis revealed that 19 DAS items were able to classify correctly 85% of depressed subjects. Whereas no differences were found between men and women in the DAS total score, a further analysis revealed that, as in other studies (e.g., Barnett and Gotlib, 1990) men showed more dysfunctional attitudes on achievement tapics than women did. No other sex differences were found. Some suggestions are given as to the advantage and limitations of the scale both in clinical and experimental settings.
Description
Se han publicado algunas correcciones y rectificaciones a algunos de los datos recogidos en el artículo. Dichas correcciones y rectificaciones fueron publicadas en: Sanz, J., y Vázquez, C. (1994). Algunas consideraciones adicionales sobre la versión española de la Escala de Actitudes Disfuncionales (DAS) de Weissman y Beck. Análisis y Modificación de Conducta, 20, 669-673. Este artículo también está recogido en el presente repositorio digital.
Collections