Publication:
Vinculación interpersonal y sobreprotección: implicaciones en el desarrollo socioemocional y el aprendizaje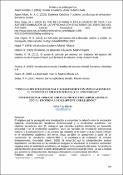 Authors
Advisors (or tutors)
Editors
Abstract
El objetivo que ha perseguido esta investigación es comprobar la relación entre la vinculación maternal, sobreprotección, desarrollo socioemocional y su rendimiento académico. Los objetivos secundarios eran (1) averiguar qué variables predicen diferencias en desarrollo emocional y en el rendimiento académico entre las variables de vinculación interpersonal materna y la sobreprotección y (2) estudiar qué variables de la madre o de la crianza influyen en el rendimiento académico del menor. Estas variables se operativizan a partir de un cuestionario de vinculación materno-filial y el cuestionario de evaluación de vínculos interpersonales, Vinculatest (Abuín, 2018). Se comprobó que la sobreprotección ansiosa dependiente, correlaciona con la vinculación insegura en Vinculatest. Se encuentra correlación negativa entre el rendimiento académico y el bloqueo de la autonomía del menor. Se predice la sobreprotección de la madre a partir del desarrollo socioemocional del menor, ya que a medida que aumenta la sobreprotección, disminuye el desarrollo socioemocional del niño/a.
The objective that this research has pursued is the relationship between maternal bonding, overprotection, socio-emotional development of the child and his academic performance. The secondary objectives were (1) to find out which variables predict the differences in emotional development and academic performance between the variables of maternal interpersonal bonding and overprotection and (2) the study of the variables of the mother or of the parenting influence on the academic performance of the child. These variables are operationalized from a questionnaire of maternal-child bonding and the questionnaire for evaluating interpersonal, binding bonds (Abuín, 2018). A statistical analysis of normality, goodness of fit, correlations, regressions and comparisons was performed. I know what anxious dependent overprotection correlates with insecure linking in unetest. There is a negative correlation between academic performance and the blocking of the child's autonomy. It also shows that a greater interdependence of mothers, less school reinforcement in their children. The overprotection of the mother is predicted from the socio-emotional development of the child, which, as the overprotection increases, the child's socioemotional development.