Publication:
Estudio interindustrial de la concentración, innovación y colusión para España (2006-2010)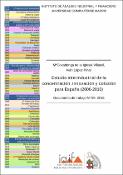 Advisors (or tutors)
Editors
Publisher
Facultad de Ciencias Económicas y Empresariales: Instituto de Análisis Industrial y Financiero
Abstract
Hay una larga tradición de estudios de economía industrial en los que se analiza, por ejemplo, la colusión o los determinantes económicos que conducen a dicho sector a una situación de no competencia o de oligopolio. En el presente trabajo, además de establecer un modelo de regresión que explique su margen de beneficios (variable utilizada como indicador de conductas monopolísticas u oligopolísticas en la literatura previa), se profundiza en las evidencias de la influencia de la innovación, tamaño y sector sobre el margen de beneficio en el tejido industrial.
There is a long tradition of industrial economy studies, in which it is analized, for example, the collusion or the economics determinates conclude to this sector to a non-competitive situation or oligopoly. In this paper, in addition to establishing a regression model to explain it is profits margin (variable used as monopolistic or oligopolistic behaviour indicator in the previous literature), it is investigated evidences about the innovation, size and sector influence around the profit margin in the industry.
Citation
Arellano, M. y Bover, O., (1990). La econometría de datos de panel. Investigaciones económicas 1, 3 – 45. Bain, J. (1956). Barriers to New Competition. Harvard University Press. Bain, J., (1959). Industrial organization. John Wiley & Sons Inc. Bresnahan, T.F., (1989). Empirical Studies of Industries With Market Power, en R. Schmalensee y R. Willig (eds.), Handbook of Industrial Organization, vol. II, cap. 17, 61-81. Buesa, M. (2012). El sistema nacional de innovación en España: un panorama. ICE nº 869. Fariñas, J.C. y Huergo, E., (1994). Examen empírico de las hipótesis de eficiencia y colusión en la industria española. DT 9405, P.I.E., Fundación Empresa Pública. Fariñas, J.C. y Jaumandreu, J., (1995). La encuesta sobre Estrategias Empresariales (ESEE): características y usos. Economía Industrial 299. Fariñas, J.C. y Jaumandreu, J., (1999). Diez años de encuesta sobre Estrategias Empresariales (ESEE). Economía Industrial 329, 29-42. Fernández, E., Montes, J.M., y Vázquez, C.J., (1996). Sobre la importancia de los factores determinantes del beneficio: análisis de las diferencias inter e intraindustriales DT 116. Fundación SEPI (enlace). https://www.fundacionsepi.es/investigacion/esee/sNACE-20.pdf Geroski, P.A., (1990). Innovation, technological opportunity and market structure. Oxford Economic Papers 42, 586–602. Goldberg, P.K., (1995). Dealer price discrimination in new car purchases: Evidence from the consumer expenditure survey. Journal of Political Economy, 104 (3), 622–654. González, X., Jaumandreu, J. y Pazó, C., (2003). Barriers to innovation and subsidy efectiveness. Mimeo, Universidad Carlos III de Madrid. Heijs, J. (2001). Sistemas nacionales y regionales de innovación y política tecnológica: una aproximación teórica. DT 24. Huergo, E., (1998). Colusión y eficiencia: un contraste a partir de estimaciones intra e intersectoriales. Revista de Economía aplicada 6 (17), 5-28. Huergo, E., (2001). El diagnóstico de poder de mercado en economía industrial: Una revisión de la literatura empírica española del siglo XX. Facultad de Ciencias económicas y empresariales, Decanato (Universidad Complutense de Madrid). Huergo, E. y Jaumandreu, J., (2002). How does probability of innovation change with firms´age? Forthcoming. Small Business Economics Huergo, E. y Jaumandreu, J., (2003). Firm´s age, process innovation and productivity growth. Mimeo, Universidad Carlos III de Madrid. Jaumandreu, J., (2004). Cuatro estudios microeconómicos sobre temas de innovación Jaumandreu, J. y Mato, G., (1986). Concentración y márgenes precio-coste, una aplicación a la industria española 1978-82. DT 8605, P.I.E, Fundación Empresa Pública. Jaumandreu, J. y Pazó, C., (1999). An empirical oligopoly model of a regulated market. International Journal of Industrial Organization 17, 25-57. Kalecki, M (1954). Teoría de la dinámica económica. Lerner, A., (1934). The concept of monopoly and the measurement of monopoly power. Review of Economics Studies 1, 157-175. Mason, S., (1939). Price and Production Policies of Large Scale Enterprises, American Economic Review, vol. 29, pp. 61-74. Mazón, C., (1992). Márgenes de beneficio, eficiencia y poder de mercado en las empresas españolas. DT 9204 Menger, C (1871). Principios de economía política. Nash, J., (1951). Non-Cooperative Games, Annals of Mathematics, Vol. 54 (1951), 286–295. Novales, A., (1993). Econometría. Mc Graw Hill Nowotny, H., Scott, P., y Gibbons, M., (2001). Re-Thinking Science. Knowledge and the Public in an Age of Uncertainty. Polity Press, Cambridge. Schmalensee, R., (1986). Inter-industry studies of structure and performance. Handbook of Industrial Organization. Schumpeter, J.A., (1911). Teoría del desarrollo económico. Stackelberg, H.F. von, (1934). Marktform und Gleichgewicht. Tirole, J., (1988). Teoría de la organización industrial. MIT Press.