Publication:
La experiencia escénica mediatizada : tecnologías interactivas del s. XXI aplicadas al teatro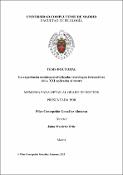 Advisors (or tutors)
Editors
Publisher
Universidad Complutense de Madrid
Abstract
La asistencia a espectáculos en vivo sigue una línea descendente y constante en las últimas décadas. Parece ser que las generaciones más jóvenes no están incluyendo el teatro dentro de sus opciones de ocio, y el consabido precio no es el único factor: su ausencia en los edificios teatrales está más relacionada con la falta de interés en lo que allí se programa, o, dicho de otra manera, por el tipo de experiencia vital que se les ofrece. En definitiva, la falta de liveness. La presente investigación se centra en el concepto liveness y en cómo potenciar la teatralidad de la experiencia escénica a través de dispositivos de comunicación mediada. En ella, se realiza un acercamiento teórico al concepto liveness, definido en la actualidad y a través de la historia, y a las ideas de mediación y de gamificación como herramientas para potencial el liveness en una experiencia escénica. También se profundiza en el único paradigma preexistente sobre experiencias escénicas mediatizadas a través de dispositivos móviles, las trayectorias de Giannachi y Benford...
Attendance to live shows has been constantly descending in past decades. It seems as if new generations are not including theatre amongst their leisure activities, and price is not the only factor: their absence in theatre venues is related to the lack of interest in what is shown there,or, in another words, to the kind of live experience they are offered. To sum up, to the absence of liveness.The current research is focused on the concept 'liveness' and how we should take it as the basis to enhance the 'performingness' of the live performance using interactive devices. We investigate theoretically the concept 'liveness', in the present time and through history, and the concepts 'mediation' and 'gamification' as necessary tools to enhaces liveness in a performance. We also detail thoroughly the only preexisting frame about mediatized live performances via smartphones, Giannachi and Benford's trajectories...
Description
Tesis inédita de la Universidad Complutense de Madrid, Facultad de Filología, leída el 17-05-2022
Collections