Publication:
Procesamiento retino-cortical de la señal visual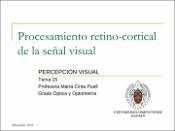 Advisors (or tutors)
Editors
Abstract
Se describen las características y funciones de las neuronas en las vías Magno y Parvo de retina y núcleo geniculado lateral, las características del campo receptor de las neuronas corticales simples, complejas e hipercomplejas, la organización modular del área visual primaria (V1) y las vías de información y procesamiento en la corteza extraestriada.
The characteristics and functions of neurons in the Magno and Parvo pathways of the retina and lateral geniculate nucleus are described. The characteristics of the receptive field of simple, complex and hypercomplex cortical neurons, the modular organization of the primary visual area (V1) and the information and processing pathways in the extra-striated cortex are described.