Publication:
Desarrollo de las personalidad eficaz a través del coaching escolar grupal en estudiantes de educación secundaria obligatoria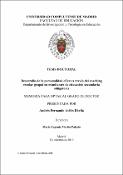 Files
Advisors (or tutors)
Editors
Publisher
Universidad Complutense de Madrid
Abstract
El propósito de este estudio es presentar un planteamiento en intervención educativa, empleando el Coaching Escolar Grupal como herramienta para el desarrollo de las diferentes dimensiones que conforman la Personalidad Eficaz en adolescentes (Fortalezas del Yo, Demandas del Yo, Retos del Yo y Relaciones del Yo).Los objetivos que se pretenden alcanzar con esta investigación son medir de manera empírica y cualitativa la influencia del proceso de Coaching en el desarrollo de las esferas de la personalidad eficaz, con carácter general y específico, y corroborar si el proceso de Coaching empleado con estudiantes de educación secundaria obligatoria influye de manera significativamente positiva en el desarrollo en cada una de las dimensiones, a nivel general y en función de la variable género, curso/edad y centro educativo.En esta investigación se emplea una metodología cuasiexperimental con ocho grupos experimental y ocho grupos control. La muestra está conformada por 310 estudiantes, pertenecientes a seis Centros de Educación Secundaria Obligatoria de la Comunidad de Madrid (cuatro públicos y dos concertados), de los cuales 156 (50,3 %) varones y 154 (49,7 %) mujeres con edades comprendidas entre los 12 y los 18 años..
The purpose of this study is to present an innovative approach to educational intervention, using School Coaching as a tool for the development of different dimensions that shape effective personality in adolescents (Personal Strengths, Demands, Challenges and Relationships)The objetives of this research is to measure both the empirical and qualitative impact of the coaching program on developing the effective personality spheres with a general and specific character and to corroborate as long as the Coaching process used with high school students has both a significant and positive influence on the development in each of the dimensions, at a general level and depending on the variables of gender, course/age and educational center.This research uses a quasi-experimental methodology with eight experimental groups and eight control groups. The sample consists of 310 students, belonging to six High Schools Institutions within the Community of Madrid (4 state schools and 2 subsidized school), of which 156 (50.3%) males and 154 (49.7%) women with ages between 12 and 18 years old...
Description
Tesis de la Universidad Complutense de Madrid, Facultad de Educación, Departamento de Investigación y Psicología en Educación, leída el 22-11-2018
Collections