Publication:
Optimización dinámica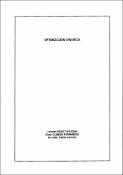 Files
Advisors (or tutors)
Editors
Publisher
Facultad de Ciencias Económicas y Empresariales. Decanato
Abstract
A lo largo del presente trabajo se repasarán algunos de los métodos fundamentales de optimización dinámica. Comenzaremos con un análisis global del problema de optimización dinámica en el que introduciremos las principales características del mismo. En los siguientes apartados nos centraremos en las tres formas de solucionarlo más ampliamente utilizadas: el cálculo de variaciones, la teoría del control óptimo y la programación matemática.
Citation
ARROW, K.J.: «Applications of Control Theory to Economic Growth, en George B. Dantzingy Arthur F. Veinott, Jr. (eds.) Mathematics of the Decision Sciences, Parte 2, American Mathematical Society, Providence, 1968, pág.92. BARRO, R.J. y SALA+MARTIN, X.:Economic Growth. McGraw-Hill, Inc. New York, 1995. BELLMAN, R.E.: Dynamic Programming, Princeton University Press, Princeton, 1957. BLACKIVELL, D.:«Discrete Dynamic Programming». Annals of Mathematical Statistics 33, págs. 719-726, 1962. BORRELL, J.: Métodos Matemáticos para la economía. Programación matemática. Ediciones Pirámide, Madrid, 1989. CHIANG, A.C.: Elements of Dynamic Optimization. McGraw-Hill, Inc. New York, 1992. FERNÁNDEZ DIAZ, A. y RODRIGUEZ SAIZ, L.: Introducción y Metodología de la política Económica. Ediciones ICE, Madrid, 1986. GANDOLFO, G.: Economic Dynamics. Study Edition. Springer-Verlag, Berlín, 1997. LORENZ, H-W.: Nonlinear Dynamical Economics and Chaotic Motion. Second Edition. Springer-Verlag, Berlín, 1993. LUENBERGER, D.G.: Introduction to Dynamic Systems. Theory, Models and Applications. John Wiley and Sons, New York, 1979. NISHIMURA, K. y SORGER, G.: «Optimal Cycles and Chaos: A Survey». Studies in Nonlinear Dynamics and Economics, Abril 1996, 1(1), págs. 11-28. PONTRYAGIN, L.S.; BOLTYANSKll, V.G.; GAMKREDLIDZE, R.V. y MISHCHENKO, E.F.: The Mathematical Theory of Optimization. Interscience Publisher, Nueva York, 1962. SHONE, R.:Economic Dynamics. Pilase diagrams and their economic application. Cambridge University Press, Cambridge, 1997. VILLALBA, D. y JEREZ, M.: Sistemas de optimización para la Planificación y toma de decisiones. Ediciones Pirámide, Madrid, 1990.