Publication:
El género del "Isagogicon moralis disciplinae": el diálogo y Leonardo Bruni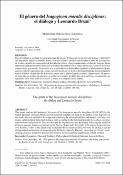 Advisors (or tutors)
Editors
Publisher
Universidad Complutense de Madrid
Abstract
En este trabajo se analizan las características del género del "Isagogicon moralis disciplinae" (1424/1425) del humanista italiano Leonardo Bruni y los mecanismos retóricos que emplea el autor en la "dispositio" de la obra, modelo de conjugación de la tradición clásica y los planteamientos civiles del Aretino. Bruni elabora un diálogo filosófico-didáctico construido de acuerdo con el orden retórico de "exordium", "narratio", "argumentatio" y "peroratio". La "narratio" y la "argumentatio" se desarrollan siguiendo el planteamiento de una "quaestio infinita cognitionis", tal y como expone Cicerón en los "Topica". Bruni pretende que esa investigación mueva al lector a la práctica de su doctrina, razón por la que incluye el "exordium" y la "peroratio". Se aprecia en todo ello un intento de integrar, al estilo ciceroniano, la dialéctica en la retórica, consiguiendo un equilibrio en el texto entre la "inventio", la forma y la disposición de ambas.
This paper analyses the features of the genre of the "Isagogicon moralis disciplinae" (1424/1425) by the Italian humanist Leonardo Bruni and the rhetorical mechanisms used by the author in the "dispositio" of the work, which is a model of the conjunction between the classical tradition and Bruni's civil bases. He makes a philosophical-didactical dialogue built according to the rhetorical precept of "exordium", "narratio", "argumentatio" and "peroratio". The "narratio" and the "argumentatio" are developed following the model of Cicero's "quaestio infinita cognitionis" in the "Topica". Bruni seeks the reader to be moved to practice his own doctrine, so this is the reason why he includes the "exordium" and the "peroratio". In all that, it can be distinguished an intention of integrating the Dialectics into the Rhetoric, according to Cicero's style, striking a balance in the text between the "inventio", the form and the organization of both of them.
Collections