Publication:
Phase-Selective Microwave Assisted Synthesis of Iron(III) Aminoterephthalate MOFs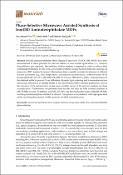 Advisors (or tutors)
Editors
Abstract
Iron(III) aminoterephthalate Metal-Organic Frameworks (Fe-BDC-NH2 MOFs) have been demonstrated to show potential for relevant industrial and societal applications (i.e., catalysis, drug delivery, gas sorption). Nevertheless, further analysis is required in order to achieve their commercial production. In this work, a systematic synthetic strategy has been followed, carrying out microwave (MW) assisted hydro/solvothermal reactions to rapidly evaluate the influence of different reaction parameters (e.g., time, temperature, concentration, reaction media) on the formation of the benchmarked MIL-101-NH2, MIL-88B-NH2, MIL-53-NH2 and MIL-68-NH2 solids. Characterization of the obtained solids by powder X-ray diffraction, dynamic light scattering and transmission electron microscopy allowed us to identify trends to the contribution of the evaluated parameters, such as the relevance of the concentration of precursors and the impact of the reaction medium on phase crystallization. Furthermore, we presented here for the first time the MW assisted synthesis of MIL-53-NH2 in water. In addition, pure MIL-101-NH2 was also produced in water while MIL-88-NH2 was the predominant phase obtained in ethanol. Pure phases were produced with high space-time yields, unveiling the potential of MW synthesis for MOF industrialization.
Collections