Publication:
Estudio de la variabilidad anatómica de las ventanas oval y redonda, y su implicación en los dispositivos implantables activos de oído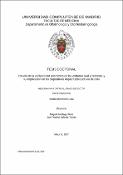 Files
Authors
Editors
Publisher
Universidad Complutense de Madrid
Abstract
El objetivo de esta tesis doctoral es realizar un estudio de la anatomía quirúrgica y la variabilidad de las regiones de la fosa oval y la ventana redonda y su relación con las estructuras más próximas, con el fin de determinar su implicación, tanto para la estabilización de implantes activos de oído medio en dichas regiones como para la inserción de implantes cocleares a través de ventana redonda. Asimismo, se ha evaluado la posibilidad de acceso a la región de la ventana redonda desde distintos abordajes quirúrgicos para los implantes cocleares y los implantes activos de oído medio VSB y Carina®. En los últimos años se ha demostrado que en casos de implante coclear la inserción a través de la ventana redonda proporciona mejores resultados funcionales, permitiendo un mejor acceso a la rampa timpánica con un menor daño de las estructuras intracocleares. Sin embargo, la variabilidad anatómica de esta región hace que el acceso a la ventana redonda no siempre sea fácil y dependa en gran medida de la orientación del nicho y la membrana de la misma en relación con el receso facial. Por otro lado, también ha surgido recientemente la posibilidad de nuevas formas de rehabilitación auditiva para pacientes con hipoacusias conductivas y mixtas de muy diversa etiología con implantes activos de oído medio...
The objective of this thesis is to study the surgical anatomy and variability of the oval and round window regions, and their relationship with the surrounding structures, to determine their implications for the stabilization of Active Middle Ear Implants in both regions and the round window insertion of Cochlear Implants. Additionally, the access possibilities from different surgical approaches to the round window region with Cochlear and Vibrant Soundbridge® and Carina® Middle Ear Implants were evaluated. Material and methods. We carried out an anatomical dissection of the oval and round window regions in 85 human temporal bones, through a facial recess (posterior tympanotomy) and open approach (open cavity or subtotal petrosectomy). We made a morphological and morphometrical analysis, studying its relation to the closest structures, and the access possibilities to these regions from both types of surgical approaches for cochlear and middle ear implants Vibrant Soundbridge® y Carina®. Adjustment and stabilization possibilities of direct round and oval windows stimulation with Carina® and Vibrant Soundbridge® were evaluated. The influence of several anatomical factors on the stabilization was also evaluated, and the most favorable anatomical conditions were identified as well as other factors that made that stabilization difficult or even impossible...
Description
Tesis inédita de la Universidad Complutense de Madrid, Facultad de Medicina, Departamento de Oftalmología y Otorrinolaringología, leída el 02-02-2016
Collections