Publication:
El islam en el espacio público de los barrios multiculturales del sur de Europa: el caso de Lavapiés, Madrid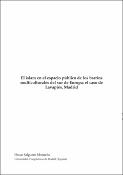 Authors
Advisors (or tutors)
Editors
Publisher
Universidad Nacional de Educación a Distancia
Abstract
En las actuales sociedades plurales no confesionales, los grupos religiosos entienden el acceso al espacio público como un derecho a la ciudad. Este derecho legitima su condición de actores sociales, que traducen como visibilización en el espacio público y participación en la vida política del municipio, a través de diversas nociones vinculadas a la modernidad y la transparencia. Para explorar esta hipótesis, este artículo examina el caso de los musulmanes bangladeshíes del multicultural barrio madrileño de Lavapiés, el cual presenta semejanzas con otros barrios multiculturales de ciudades del sur de Europa como Lisboa o Roma: un barrio afectado por un acelerado proceso de gentrificación y turistificación. Se analizan las circunstancias en las que esta comunidad intenta acceder al espacio público, con el fin de lograr una mayor legitimación y reconocimiento, teniendo en cuenta las diferentes prácticas y discursos que se despliegan en determinados eventos y festividades.
In current nondenominational plural societies, religious groups understand access to public space as a right to the city. This right legitimizes their status as social actors, who are entitled to have a public life and to be recognized, through various notions linked to modernity and transparency. To explore this hypothesis, this article examines the case of Bangladeshi Muslims in Madrid's multicultural neighborhood of Lavapiés, which has similarities with other multicultural neighborhoods in southern European cities, which has similarities with other multicultural neighbourhoods in southern European cities, such as Lisbon or Rome: a barrio affected by an accelerated gentrification and touristification process. It analyzes the circumstances through which this community attempts to access public space, in order to achieve further legitimization and recognition, by bringing into account the different practices and discourses displayed in specific events and festivities.
Collections