Publication:
Propuesta de conservación y restauración de planchas científicas de fotograbado de la Escuela de Ramón y Cajal (Siglo XX)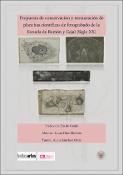 Authors
Advisors (or tutors)
Editors
Abstract
La investigación científica de una colección de planchas metálicas de fotograbado pertenecientes a la Escuela de S. Ramón y Cajal, así como la conservación y restauración de las mismas, han sido los puntos clave para abordar este trabajo. Se ha elaborado una propuesta de intervención de quince piezas escogidas de una colección de más de cien, clasificadas por paquetes, para las que se ha aplicado la misma metodología de intervención, puesto que los agentes de alteración son similares en todas ellas. Se han identificado sus patologías, así como las causas que las han generado y se han propuesto unos tratamientos basados en el criterio de mínima intervención ajustados a los distintos materiales que las conforman. La finalidad de este trabajo es disponer de una guía metodológica para, en el futuro, abordar la intervención de una selección de piezas con motivo de su muestra en una exposición temporal, prevista para el año 2021, bajo el título de "Artefactos" en el Centro de Arte Complutense c arte c. De este modo se contribuirá a dar a conocer la labor de Ramón y Cajal y su aportación a la neurociencia, además de divulgar este singular tipo de patrimonio en el ámbito de la conservación.
The scientific research of a collection of metal photo-engraving plates belonging to the School of S. Ramón y Cajal, as well as their conservation and restoration, have been the key points in addressing this work. A proposal has been drawn up for the intervention of fifteen pieces chosen from a number of more than one hundred, classified by packages, for which the same intervention methodology has been applied, since the alteration agents are similar in all of them. Their pathologies have been identified, as well as the causes that have generated them and treatments have been proposed based on the criteria of minimum intervention adjusted to the different materials that make them up. The aim of this work is to have a methodological guide for, in the future, dealing with the intervention of a selection of pieces on the occasion of their exhibition in a temporary exhibition, planned for 2021, under the title of "Artefacts" in the Centre of Arte Complutense c arte c. In this way it will contribute to making the work of Ramón y Cajal known and its contribution to neuroscience, as well as disseminating this unique type of heritage in the field of conservation.