Publication:
Reconstrucción de una video-aventura isométrica clásica utilizando IsoUnity como herramienta de producción multiplataforma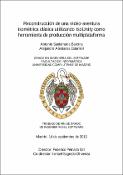 Editors
Abstract
Actualmente el videojuego es uno de los medios de entretenimiento que mayor crecimiento está experimentando tanto en número de usuarios como en cifras de negocio en los últimos años. Entre los jugadores existe una fuerte tendencia a recordar y volver a jugar títulos clásicos de la historia de los videojuegos, o títulos "retro" que recuerdan aspectos de dichos juegos de épocas pretéritas. Cada vez es más habitual que se realicen reconstrucciones ("remakes") de juegos antiguos para que puedan jugarse en plataformas actuales e incorporen a menudo características con las que no contaba el original, pero que tienen una gran demanda en la actualidad. Uno de los géneros más queridos por los gamers es el de la video-aventura, que en los años 80 usaba a menudo escenarios estructurados en casillas o bloques vistos en perspectiva isométrica. En España se desarrolló una obra emblemática de este tipo de juegos, La Abadía del Crimen, un título que todavía es muy popular en nuestros días. Conocido el interés de algunos estudios de producción por reconstruir de nuevo esta video-aventura y adaptarla a las necesidades de nuestros tiempos, para este trabajo nos propusimos realizar un estudio sobre la viabilidad de desarrollar semejante proyecto a nivel profesional. Buscábamos plantear un diseño y una funcionalidad mejorados, así como contar con la capacidad de ser jugado de manera cómoda e intuitiva en un conjunto muy amplio de plataformas (sobremesa, navegador web, tabletas y móviles inteligentes). Nuestro trabajo comienza con una revisión de la historia del videojuego, con especial énfasis en las video-aventuras clásicas. Tras esto, se analizan las metodologías más habituales en la industria para el diseño y producción de videojuegos, que a menudo son metodologías ágiles de gestión de proyectos. También se exploran las herramientas más comunes para el desarrollo de este tipo de software, haciendo hincapié en aquellas más específicas, la cuales permiten crear escenarios estructurados en casillas o bloques vistos desde una perspectiva isométrica y cuyos gráficos tienen un aspecto "pixelado" tan característico de la baja resolución de imagen que ofrecían las pantallas de los años 80.Tras definir con mayor precisión los objetivos de este estudio y el plan de trabajo a seguir, se explican los fundamentos en lo que se basa la propuesta de trabajo. Ésta se fundamenta en utilizar IsoUnity, una herramienta experimental de origen universitario que trata de facilitar la creación de este tipo de juegos "retro" de vista isométrica y jugabilidad de video-aventura clásica, y que está integrada en Unity, un entorno profesional de desarrollo de videojuegos ampliamente utilizado en nuestros días. Como parte central de este trabajo, se muestra la especificación y las ideas detrás del nuevo diseño aplicado, tratando de aclarar cómo se afrontan las peculiaridades del juego original que deben ser adaptadas a las nuevas tecnologías y tendencias en materia de videojuegos. Se describe el prototipo que se ha implementado, explicando cómo ha sido la experiencia de uso de IsoUnity y el proceso de extender parte de su código para habilitar comportamientos más complejos en los personajes. Se detalla cómo funciona la herramienta ante las pruebas a las que se expone que pueden simular una carga equivalente a la de un videojuego real. Finalmente, se presenta una discusión acerca de la problemática que plantea la reconstrucción de videojuegos clásicos, las ventajas e inconvenientes encontrados durante el proceso, tanto con el rediseño de La Abadía del Crimen como con el uso de Unity e IsoUnity como plataformas de desarrollo. Como conclusión a este trabajo, consideramos viable que un estudio de producción aborde de esta manera el proyecto y trate de convertirlo en un producto comercial, siempre que se tengan presentes una serie de recomendaciones relativas a su alcance que enumeramos al final.
Currently the videogame is one of the entertainment ways which experiencing the greatest growth in number of users and business figures. Among gamers there is a strong tendency to remember and return to play classic titles in the history of videogames, or "retro" titles that recall aspects of these games of earlier times. It is increasingly common the reconstruction ("remakes") of old games that are made so they can be played on existing platforms and often incorporate features that the original did not have, but are in high demand today. One of the most beloved genres for gamers is the video adventures, which in the 80's used often structures in boxes or blocks scenarios seen in isometric perspective. In Spain an emblematic work of these games, The Abbey of Crime, a title that is still very popular today was developed. Knowing the interest of some production studios to rebuild again this video adventures and adapt it to the needs of our times, we set out for this work a study on the feasibility of developing such a project professionally. We wanted to raise design and improved functionality as well as have the ability to be played comfortably and intuitively in a wide range of platforms (desktop, web browser, tablets and smart phones). Our work begins with a review of gaming history, with special emphasis on the classical video adventures. Afterwards we analyze the most common methodologies in the industry for the design and production of video games, which often are agile methodologies of project management. We also explored the most common tools to develop this type of software, emphasizing more specific ones, which allow to create scenarios structured in boxes or blocks seen in isometric perspective and whose graphics have a "pixelated" look so typical of the low resolution image featuring screens in 80's. After defining with accuracy the objectives of this study and the work plan to follow, we explained that our proposal is based on use of IsoUnity, an experimental university based tool that aims to facilitate the creation of such "retro" games of isometric type and video adventure classic gameplay, and that is integrated in Unity, a professional game development environment widely used today. As a central part of this work we show the specification and the ideas behind our new design, trying to clarify how the peculiarities of the original game are to be adapted to new technologies and trends in video games. We describe the prototype we have implemented, explaining how it has been the experience of using IsoUnity and the process of extending some of its code to enable more complex behaviors in thecharacters. We detail load tests conducted to validate the scalability of the tools used and also the possibility of implementing with them all the features contained in our specification of the new video game. Finally it is presented a discussion about the problems posed by the reconstruction of classic video games, the advantages and disadvantages encountered during the process, both with the redesign of The Abbey of Crime as to the use of Unity and IsoUnity as development platforms. As a conclusion to this paper, we consider feasible that a production studio approaches in this way the project and try to turn it into a commercial product, provided that a series of recommendations for its scope, which are listed at the end are taken into account.
Description
Trabajo de Fin de Grado en Ingeniería del Software (Universidad Complutense, Facultad de Informática, curso 2014/2015)