Publication:
El otro lado del arcoiris: violencia en las relaciones de intimidad en parejas del mismo sexo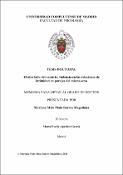 Advisors (or tutors)
Editors
Publisher
Universidad Complutense de Madrid
Abstract
A pesar de su alta prevalencia en parejas del mismo sexo, el estudio de la violencia de pareja se ha centrado principalmente en parejas de diferente sexo, haciendo que las parejas del mismo sexo permanezcan en la invisibilidad. Sin embargo, cuando se consideran las personas lesbianas, gais y bisexuales (LGB), varios estudios informan una prevalencia de violencia en la pareja similar o incluso mayor entre las parejas del mismo sexo en comparación con las parejas de diferente sexo. Además, surgen similitudes entre parejas del mismo sexo y de diferente sexo, así como algunas especificidades con respecto a las parejas del mismo sexo. A pesar de lo anterior, menos investigación se centra en las diferencias entre las dinámicas violentas y la influencia de los factores de riesgo, especialmente teniendo en cuenta la población española. Fue durante la búsqueda para llenar este vacío identificado en la literatura que se originó la presente tesis doctoral. Se realizaron dos estudios diferentes, ambos centrados en factores de riesgo que podrían tener un impacto en parejas del mismo sexo. A través de ambos, con el objetivo de caracterizar las relaciones entre personas del mismo sexo con un énfasis especial en las dinámicas violentas, se adoptó igualmente una perspectiva comparativa con respecto a las parejas de diferente sexo...
The study of intimate partner violence (IPV) has been mostly focused on different-sex couples, causing same-sex couples to remain in the invisibility. Nevertheless, when lesbian, gay and bisexual individuals (LGB) are considered, several studies report a similar or even higher IPV prevalence among same-sex couples comparing to different-sex couples. Also, similarities between same-sex and different-sex couples arise, as well as some specificities regarding same-sex couples.Despite the mentioned above, less research focus on the differences among the violent dynamics and the influence of risk factors, especially considering a Spanish sample. It was while searching to fill this identified gap in the literature that the present PhD thesis was originated. Two different studies were preformed, both focusing in risk factors that could have an impact in same-sex couples. Through both, while aiming to characterize same-sex relationships with a special emphasis in violent dynamics, a comparative perspective was equally adopted regarding different-sex couples...
Description
Tesis inédita de la Universidad Complutense de Madrid, Facultad de Psicología, leída el 21-12-2021
Collections