Publication:
Registro de existencia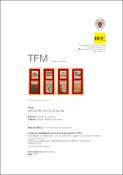 Authors
Advisors (or tutors)
Editors
Abstract
El presente documento muestra un detallado análisis del proyecto artístico Registro de existencia, elaborado como una reflexión teórica que profundiza tanto en el proceso como en el resultado de la obra. Un proyecto de arqueología urbana configurado por 85 casos prácticos en los que se intenta reconstruir la vida interior acontecida en algunos de los espacios domésticos deshabitados de nuestro país; elaborados a partir de fotografías, objetos y testimonios recogidos en las intervenciones transcurridas durante once meses de trabajo de campo. Una exploración del entorno que se expone a modo de archivo y que certifica la existencia de un escenario ya desvanecido. La investigación que se desarrolla a partir de él, establece en primer lugar un marco de referencia integrado por conceptos como: la memoria como vínculo entre experiencia y espacio, el significado de casa, espacio habitado e intimidad y algunas nociones sobre el recorrido, como continuo tránsito entre espacio físico y espacio simbólico; además de analizar el trabajo y el discurso de algunos artistas como ejemplo práctico. Para profundizar con todo ello en algunas consideraciones tales como: la construcción de la experiencia artística a través del recorrido, el proceso documental como resultado final y material único y la relación del hombre con la deconstrucción de su paisaje mas inmediato. [ABSTRACT]This document presents a detailed analysis of the art projet Registro de existencia, developed as a theoretical reflection that deepens both the process as the result of the work. A project of urban archeology set of 85 practical cases in which attempts to reconstruct the inner life which occurred in some of the uninhabited domestic spaces of our country; made from photographs, objects and testimonies collected in the eleven months elapsed interventions work field. An exploration of the environment that is exposed as a file and certifying the existence of a vanished stage. The research developed from it, first establishes a reference framework composed of concepts such as: the memory as a link between experience and space, the meaning of home, living space and privacy and some notions about the travel, as a continuous transition between physical space and symbolic space; in addition to analyzing the work and the discourse of artists such as practical example. For further with all this in some respects such as: the construction of the artistic experience throughout the travel, the documentary process as the final result and unique material and man's relationship with the deconstruction of the immediate landscape.