Publication:
Tratamiento endoscópicamente asistido de la sinostosis sagital precoz (escafocefalia)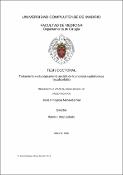 Authors
Advisors (or tutors)
Editors
Publisher
Universidad Complutense de Madrid
Abstract
La sinostosis sagital precoz o escafocefalia es la forma más frecuente de craneosinostosis. Se produce por el cierre prematuro de la sutura sagital lo que da lugar a un cráneo alargado en su diámetro anteroposterior. El término escafocefalia fue acuñado por Baer en 1860, y significa cabeza en forma de quilla o bote (gr. σκαφοζ, barco), lo que describe a la perfección las deformidades presentes en estos pacientes: una cabeza alargada en su diámetro anteroposterior, con estrechamiento del diámetro biparietal y abombamientos compensadores frontales y occipitales. Su incidencia se calcula en torno a uno de cada 2000 a 3000 recién nacidos vivos con una proporción de 3,5 a 1 entre varones y mujeres. Aproximadamente el 72 % de los casos son de tipo esporádico aunque se ha observado agregación familiar en un 6% de los pacientes afectados. Se acepta que la causa de las craneosinostosis simples es multifactorial, con un origen heterogéneo desde el punto de vista etiológico y distintos procesos fisiopatológicos que pueden confluir en su desarrollo. Se postula que las craneosinostosis no sindrómicas tienen un componente genético, con interacciones entre genes y factores ambientales que aún no se conocen en su totalidad. Junto a factores mecánicos (como la restricción del movimiento fetal, compresiones por gestaciones múltiples, anomalías anatómicas uterinas...), se reconocen causas relacionadas con trastornos en la hidrodinámica del LCR (mielomeningocele, derivaciones ventriculoperitoneales en el tratamiento de la hidrocefalia), teratógenos o malformaciones del SNC que limitan la expansión de las vesículas telencefálicas (holoprosencefalia, microcefalia...)...
Early sagittal synostosis or scaphocephaly is the most common form of craniosynostosis. It is caused by the premature closure of the sagittal suture leading to a skull elongated in the anteroposterior diameter. The term scaphocephaly was coined by Baer in 1860, meaning keel-shaped head or boat (gr σκαφοζ, barco), which perfectly describes the deformities present in these patients: an enlarged head at its anteroposterior diameter, narrowing of biparietal diameter and compensating frontal and occipital bulges. Its incidence is estimated at around one in 2000-3000 live births with a ratio of 3.5 to 1 between men and women. Approximately 72% of cases are sporadic and familial aggregation was observed in 6% of patients. It is accepted that the etiology of simple craniosynostosis is multifactorial, with a heterogeneous origin from the point of view of pathophyisiology and etiology. It has been hypothesized that non-syndromic craniosynostosis have a genetic component, with interactions between genes and environmental factors that are still unknown in its entirety. Along with mechanical factors (such as restriction of fetal movement and compressions, multiple gestations, uterine anatomic abnormalities ...), or related disorders in CSF hydrodynamics (myelomeningocele, ventriculoperitoneal shunts in the treatment of hydrocephalus) other causes like teratogens and CNS malformations limiting the expansion of the telencephalic vesicles (holoprosencephaly, microcephaly ...) can be recognized. But today, a deep genetic basis for the occurrence of the simple (non-syndromic) craniosynostosis is commonly accepted. Genes as Msx2, FGFR1, FGFR2 and FGFR3 are widely expressed in the brain before the sutures and bones of the vault are formed...
Description
Tesis inédita de la Universidad Complutense de Madrid, Facultad de Medicina, Departamento de Cirugía, leída el 09/07/2015
Collections