Publication:
Detención, internamiento y expulsión administrativa de personas extranjeras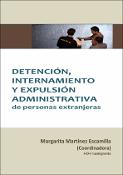 Advisors (or tutors)
Editors
Publisher
Consejo General del Poder Judicial
Abstract
La expulsión de personas extranjeras sin permiso de residencia es uno de los pilares en los que se asienta la política española y europea de gestión de la inmigración irregular. Además de su gran contenido aflictivo, en la mayoría de las ocasiones, la expulsión va precedida de un "ciclo" de restricción de derechos y de privación de libertad de los ciudadanos extranjeros: actuaciones policiales dirigidas a la localización de ciudadanos en situación irregular, detenciones en comisaría, las denominadas "expulsiones exprés", privación de libertad en los centros de internamiento, etc... Los artículos que integran este libro colectivo ―cuyos autores proceden de la universidad, la judicatura, la fiscalía, la abogacía o el activismo en la defensa de los derechos humanos―, nos muestran una realidad humana y jurídica sin duda necesitada de mayor atención.
The removal of foreigners without a residence permit is one of the pillars on which the Spanish and the European policies against illegal immigration sits. Besides the human suffering it causes, in most cases removal is preceded by a "cycle" of rights's restrictions and by the detention of foreign citizens: police actions aimed at locating people in an irregular situation, detention at the police station, the so called "express evictions", deprivation of liberty in detention centers, etc. The items that make up this collective book -whose authors come from the university, the judiciary, the prosecutor, advocacy or activism in the defense of human rights- , show us a human and legal reality which definitely needed more attention.
Description
El contenido del libro coincide con el del curso "Protección de los derechos humanos y control judicial de la inmigración", impartido en el marco del programa de formación continua del Consejo General del Poder Judicial. Las ponencias del curso están publicadas en (Los artículos que integran este libro fueron publicadas por el Consejo General del Poder Judicial en Cuadernos Digitales de Formación, 10, 2015. El CGPJ es EPO (Ente Promotor Observador) del Proyecto I+D+i Iusmigrante (DER 2011-26449)en cuyo marco se ha realizado esta edición digital.
Collections