Publication:
+Ciudadanía digital: activismo juvenil en plataformas de e-peticiones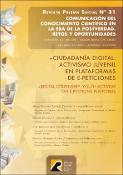 Advisors (or tutors)
Editors
Abstract
Este trabajo aborda el tema de la participación solidaria de la juventud a través de la firma de e-peticiones en plataformas online. A partir de un cuestionario de elaboración propia a 463 estudiantes universitarios de ambos sexos, se ha tratado de ver si la firma de e-peticiones es una práctica generalizada o no entre las/os jóvenes, cuáles son las motivaciones a la hora de firmar y si se trata de un comportamiento de clickactivismo o hay una implicación más comprometida. Los resultados muestran que la firma de e-peticiones es una forma de participación social bastante extendida, sin diferencias en cuanto a género, aunque las/os jóvenes no se identifican plenamente con ella. Se muestran idealistas y altruistas a la hora de firmar, aunque desconfían de que tenga mucha repercusión social y sirva para cambiar la realidad. La proximidad psicológica y emocional de las causas que firman es lo que les motiva a apoyar unas causas u otras. El perfil de estos/as jóvenes que firman e-peticiones se caracteriza por una autopercepción de personas más comprometidas socialmente que los que no suelen firmar, con un posicionamiento ideológico algo más a la izquierda y por canalizar su activismo social principalmente a través de la Red.
This work addresses the issue of youth solidarity participation through the signing of e-petitions on online platforms. From a questionnaire of own elaboration to 463 university students of both sexes, it has been tried to prove if the signing of e-petitions is a generalized practice or not among young people, what are the motivations when they sign the e-petitions and if it is a clickactivism behavior or there is a more committed involvement. The results show that e-petition signing is a widespread form of social participation, with no gender differences, although young people do not fully identify with it. They are idealistic and altruistic when they sign, although they doubt that it has a lot of social repercussion and serves to change the world. The psychological and emotional proximity of the causes they sign is what motivates them to support some causes or others. The profile of these young people who sign e-petitions is characterized by a self-perception of more socially committed than those who do not usually sign, with a more left-wing ideological tendency and for exhibiting their social activism mainly through the Internet.
Citation
Álvaro, A. y Rubio, R. (2016). Las TIC en la participación política de los jóvenes. INJUVE. Arroyo, L. (2014). ¿La ciberutopía era esto? Softactivismo, tribalismo, nueva censura y trivialización del espacio público. En R. Cotarelo y J. Olmeda (Eds.), La democracia del siglo XXI. Política, medios de comunicación, internet y redes sociales (pp. 137-154). Centro de Estudios Políticos y Constitucionales. Baek, Y. M., Wojcieszak, M. y Delli Carpini, M. X. (2012). Online versus face-to-face deliberation: Who? Why? What? With what effects? New Media & Society, 14(3), 363–383. doi:10.1177/1461444811413191 Beck, U. (1997). The Reinvention of Politics: Rethinking Modernity in the Global Society Order. Polity Press. Bennett, W. L. (2012). The Personalization of Politics: Political Identity, Social Media, and Changing Patterns of Participation. The Annals of the American Academy of Political and Social Science, 644(1), 20–39. doi:10.1177/0002716212451428 Boulianne, S. (2009). Does Internet Use Affect Engagement? A Meta-Analysis of Research. Political Communication, 26(2), 193–211. Cáceres, M.D., Brändle, G. y Ruiz-San Román, J.A. (2015). Hacia la construcción de una ciudadanía digital. Nuevos modelos de participación y empoderamiento a través de Internet. Prisma Social, 15, 643-684. Calvo, D. (2017). Características formales de las plataformas de peticiones online: sistemas públicos anglosajones, opciones privadas en España. Área abierta, 17(2), 241-258. doi 10.5209/ARAB.51992 Calvo, D. y Campos, E. (2017). De los medios a la participación: la presencia de las peticiones electrónicas en los diarios digitales españoles. Animus. Revista Interamericana de Comunicação Midiática, 16(31), 38-55. doi: 10.5902/2175497723789 Calvo, D. (2016). Empresa privada y participación digital: modelo de negocio y derecho de petición en Change.org. OBETS. Revista de Ciencias Sociales, 11(1), 97-128. doi: 10.14198/OBETS2016.11.1.05 CIS (2012-2018). Estudios 2960; 2984; 3001; 3021; 3041; 3080; 3114; 3156; 3173 y 3210. Disponibles en www.cis.es. Dahlgren, P. (2012). Mejorar la participación: la democracia y el cambiante entorno de la web. En D. Innerarity y S. Champagne (Eds.), Internet y el futuro de la democracia (pp. 45–67). Paidós. García-Galera, M.C., Del-Hoyo, M. y Fernández, C. (2014). Jóvenes comprometidos en la Red: El papel de las redes sociales en la participación social activa. Comunicar, 43(XXII), 35-43. doi: 10.3916/c43-2014-03 García-Galera, M.C., Fernández-Muñoz, C. y Porto-Pedrosa, L. (2017). Empoderamiento de los jóvenes a través de las redes sociales. Construcción de una ciudadanía digital comprometida. Communication & Society 30(3), 129-140. Irvin, A. y Stansbury, J. (2004). Citizen participation in decision making: is it worth the effort? Public Administration Review, 64(1), 55-65. doi: 10.1111/j.1540-6210.2004.00346.x Jenkins, H. (2014). Participatory culture: From co-creating brand meaning to changing the world. GfK Marketing Intelligence Review, 6(2), 34-39. doi: 10.2478/gfkmir-2014-0096 Joyce, M. (ed.) (2010). Digital activism decoded: the new mechanics of change. Idebate Press. Kersting, N. (2014). Online participation: from 'invited' to 'invented' spaces. Internatinal Journal of Electronic Governance, 6(4) 270-280. doi: 10.1504/IJEG.2013.060650 Lewis, K., Gray, K., y Meierhenrich, J. (2014). The Structure of Online Activism. Sociological Science, 1, 1-9. doi: 10.15195/v1.a1 Lizaso, I., Sánchez-Queija, I., Parra, A. y Arranz, E. (2018). La participación social online y offline de estudiantes universitarios españoles. OBETS. Revista de Ciencias Sociales, 13(2), 547-567. doi: 10.14198/OBETS2018.13.2.04 Loncle, P., Cuconato, M., Muniglia, V., y Walther, A. (Eds.) (2012). Youth Participation in Europe: Beyond Discourses, Practices and Realities. The Policy Press. Marqués, J. (2015). Los criterios de noticiabilidad como factor de éxito del clickactivismo. El caso de Change.org. Estudios sobre el Mensaje Periodístico, 21(2), 883-898. doi: 10.5209/rev_ESMP.2015.v21.n2.50890 Micheletti, M. (2003). Political virtue and shopping: individuals, consumerism and collective action. Macmillan. Micheletti, M. y Stolle, D. (2009). Consumers as political actors. En L. Walter (Ed.), Critical food issues: problems and state-of-the-art solutions worldwide (pp. 56-87). ABC-CLIO. Novo, A. (2014). "Consumocracia". El consumo político como forma de participación de la ciudadanía. Política y Sociedad, 51(1), 121–146. doi: 10.5209/rev_POSO.2014.v51.n1.42481 Pariser, E. (2017). El filtro burbuja: cómo la red decide lo que leemos y lo que pensamos. Taurus. Putnam, R. (2000). Bowling Alone: The Collapse and Revival of American Community. Simon and Schuster. Rodríguez de Dios, I., van Oosten, J. M. F. e Igartua, J. J. (2018). A study of the relationship between parental mediation and adolescents' digital skills, online risks and online opportunities. Computers in Human Behavior, 82, 186–198. doi: 10.1016/j.chb.2018.01.012 Saglie, J. (2009). Size and e‐Democracy: Online Participation in Norwegian Local Politics. Scandinavian Political Studies, 32(4), 382-401. doi: 10.1111/j.1467-9477.2009.00235 Valenzuela, K. (2007). Colectivos juveniles: ¿inmadurez política o afirmación de otras políticas posibles? Última Década, 26, 31-52. Vázquez, T., Torrecillas, T. y Suárez, R. (2020). Diferencias de género en las oportunidades de la digitalización para la participación sociopolítica de los adolescentes. Revista Mediterránea de Comunicación, 11(1), 155-168. doi: 10.14198/MEDCOM2020.11.1.10 Ward, S., Gibson, R. y Lusoli, W. (2003). Online Participation and Mobilisation in Britain: Hype, Hope and Reality. Parliamentary Affairs, Volume 56 (4), pp. 652–668. doi: 10.1093/pa/gsg108 Zamwel, E., Sasson-Levy, O., y Ben-Porat, G. (2014). Voluntary simplifiers as political consumers: Individuals practicing politics through reduced consumption. Journal of Consumer Culture, 14(2), 199–217. doi: 10.1177/1469540514526277
Collections