Publication:
Traducción de nombres fantásticos: "Animales fantásticos y dónde encontrarlos"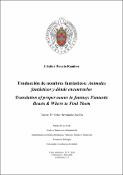 Authors
Advisors (or tutors)
Editors
Abstract
La teoría de la traducción es poco concluyente en lo referente a la traducción de los nombres propios. Sin embargo, se podría considerar que existe un consenso tácito entre los profesionales del sector cuya principal línea de actuación es, salvo excepciones, no traducirlos. Aquí se tratará de esclarecer el procedimiento del traductor ante estas excepciones, sobre todo ante los nombres propios que comportan connotación semántica. La metodología que se ha utilizado consiste en un análisis comparativo intertextual de las criaturas del bestiario para poder extraer conclusiones de las traducciones al español, si las hay, y de cómo se podrían traducir estos nombres en el caso de no existir una traducción oficial. El trabajo se centra sobre todo en la parte creativa de la traducción de nombres propios y en el nivel de intervención del traductor en estos casos según el contexto. Cuenta además con la ayuda de un compendio anexo que recoge todas las criaturas y su consiguiente justificación contextual.
Translation theories about proper nouns are not conclusive. When it comes to translating proper nouns translators usually agree not to translate them, although there are not any norms in this respect. The aim of this paper is to elucidate the procedure in these cases, especially in those names charged with semantics. The methodology followed in this paper is a comparative and intertextual analysis of all the creatures and how they have been translated (the ones which have official translation) and how can we translate them when they haven't been translated before. This work is focused on creative translation of the proper nouns and the level of translator's contribution on it. An attached document that contains all the translations for this paper and its justification is available for its consultation.