Publication:
Por qué en la red de redes se priorizan los contenidos banales, estereotipados y redundantes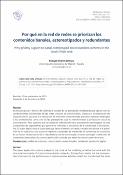 Authors
Advisors (or tutors)
Editors
Publisher
Grupo de Investigación Identidades Sociales y Comunicación
Abstract
El artículo aplica el análisis de sistemas al estudio de las actividades mediadoras que operan con los condicionantes estructurales de las redes virtuales de comunicación. Destaca la incorporación del conjunto de los usuarios a la realización de funciones comunicativas que antes estaban reservadas a los profesionales como una de las prestaciones que ha transformado la producción social de comunicación. Pero sostiene que la utilización colectiva de estas prestaciones tecnológicas no está cumpliendo las expectativas que generaron referidas al desarrollo de la creatividad y del pluralismo. El autor explica que la capacidad que tiene el sistema de redes virtuales de abrirse a la población en su conjunto y de acumular ingentes cantidades de materiales se constituye en la práctica en un factor multiplicativo de la redundancia y de la estereotipia, criterios que rigen la selección de contenidos destinados a la comunicación pública desde que existe la comunicación de masas.
The paper applies the systems analysis to the study of the mediating activities that work with the structural constraints of virtual communication networks. Among them, stands out the incorporation of all users to the performance of communicative activities which has transformed the socialproduction of communication. But this paper holds as well that the collective use of those technological advances is not fulfilling the expectations originally raised, referred to the development of creativity and pluralism. The author explains that the capacity of virtual network system (that is, to be opened to the population as a whole and to offer a vast amount of data), constitutes, in practice, a multiplying factor of redundancy and stereotype, which are, both, the criteria that are behind the selection of contents for public communication since the beginning of mass communication.
Collections