Publication:
Desarrollo farmacéutico de una formulación de amoxiciloil octa L-lisina en el diagnóstico de la hipersensibilidad inmediata al antibiótico β-lactámico: amoxicilina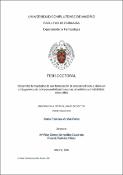 Files
Authors
Advisors (or tutors)
Editors
Publisher
Universidad Complutense de Madrid
Abstract
La alergia a medicamentos constituye la tercera causa más frecuente de consulta en los Servicios de alergología. Siendo la amoxicilina, la causa más frecuente de alergia a β-lactámicos, reprentando un 70% de los casos en España. Esto es debido principalmente a los cambios en el uso y la elección de los antibióticos β-lactámicos, así aquellos sujetos expuestos a la amoxicilina representan un número más elevado.Las reacciones alérgicas a antibióticos β-lactámicos se definen como inmediatas y tardías. Las tardías en general son atribuibles a un mecanismo de células T específico, mientras que las inmediatas, son aquellas mediadas por un mecanismo IgE, siendo estas últimas más susceptibles de una evaluación más cuidadosa porque son las que conllevan un riesgo vital.Aunque en la actualidad el grupo de trabajo en Alergia a Medicamentos (ENDA) y la Academia Europea de Alergia e Immunología Clínica (EAACI) publicó una guía con recomendaciones en relación con la hipersensibilidad a antibióticos β-lactámicos, donde incluia la amoxicilina en su algoritmo de diagnóstico, se ha comprobado que las pruebas cutáneas o "in vitro" con determinantes menores de amoxicilina, no mejoran el diagnóstico de pacientes con reacciones alérgicas a la amoxicilina...
Drug allergy is the third most frequent cause of allergy consultation. Amoxicillin is the most common cause of allergy to beta-lactams, accounting for 70% of cases in Spain. This is mainly due to changes in the use and choice of beta-lactam antibiotics, thus those exposed to Amoxicillin represent a higher number.Allergic reactions to beta-lactams are defined and accepted as immediate and late reactions. Late reactions in general are attributable to a specific T cell mechanism, while the immediate reactions are those mediated by an IgE mechanism, being more susceptible to a more careful evaluation because they are the ones that carry a vital risk.Although the Medication Allergy (ENDA) and European Academy of Allergy and Clinical Immunology (EAACI) working group published a guide with recommendations regarding hypersensitivity to beta-lactam antibiotics, including Amoxicillin in its Diagnosis algorithm; it´s been shown that that skin or "in vitro" tests with lower determinants of amoxicillin, don´t improve the diagnosis of patients with allergic reactions to Amoxicillin...
Description
Tesis de la Universidad Complutense de Madrid, Facultad de Farmacia, Departamento de Farmacología, leída el 18/12/2017
Collections