Publication:
Carbon Nanostructures for Tagging in Electrochemical Biosensing: A Review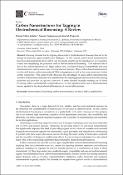 Advisors (or tutors)
Editors
Abstract
Growing demand for developing ultrasensitive electrochemical bioassays has led to the design of numerous signal amplification strategies. In this context, carbon-based nanomaterials have been demonstrated to be excellent tags for greatly amplifying the transduction of recognition events and simplifying the protocols used in electrochemical biosensing. This relevant role is due to the carbon-nanomaterials' large surface area, excellent biological compatibility and ease functionalization and, in some cases, intrinsic electrochemistry. These carbon-based nanomaterials involve well-known carbon nanotubes (CNTs) and graphene as well as the more recent use of other carbon nanoforms. This paper briefly discusses the advantages of using carbon nanostructures and their hybrid nanocomposites for amplification through tagging in electrochemical biosensing platforms and provides an updated overview of some selected examples making use of labels involving carbon nanomaterials, acting both as carriers for signal elements and as electrochemical tracers, applied to the electrochemical biosensing of relevant (bio)markers.
Collections