Publication:
Intake of Nutrient and Non-Nutrient Dietary Antioxidants. Contribution of Macromolecular Antioxidant Polyphenols in an Elderly Mediterranean Population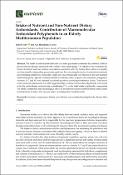 Advisors (or tutors)
Editors
Abstract
The intake of antioxidants in the diet is a useful parameter to estimate the potential of diet to prevent chronic diseases associated with oxidative stress and ageing. The objective was to estimate the intake of nutrient and non nutrient antioxidants associated with the dietary fiber matrix in a healthy and functionally independent population aged over 80, estimating the intake of antioxidant nutrients and including soluble low molecular weight and macromolecular polyphenols in the non-nutrient antioxidant group. Specific nutrients related to oxidative stress (copper, zinc, selenium, manganese, vitamins A, C and E) were ingested in optimal quantities according to reference values. Total intake of non-nutrient antioxidants was 2196 mg/person/day, and macromolecular polyphenols were found to be the main dietary antioxidants, contributing 71% to the total intake of phenolic compounds. The intake, metabolism and physiological effects of all nutrient and non-nutrient dietary antioxidants must therefore be taken into account when evaluating their health benefits.
Collections