Publication:
Medidas de los organismos públicos en la lucha contra la contaminación atmosférica: de la ONU al Ayuntamiento de Madrid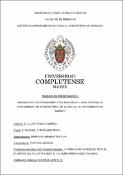 Authors
Advisors (or tutors)
Editors
Abstract
En este trabajo de derecho medioambiental se analizan las distintas medidas de los organismos públicos en la lucha contra la contaminación atmosférica; con especial énfasis en aquellas que afectan a España y a Madrid, como por ejemplo el procedimiento contra España por incumplimiento de los niveles de NO2 y el Plan A, que incluye la zona de bajas emisiones Madrid Central, además de su teórico sucesor, Madrid 360. No obstante, el TFM tiene un enfoque mucho más amplio, examinando las distintas soluciones que ofrecen los diversos organismos públicos al problema de la contaminación atmosférica, tanto a nivel nacional como internacional, con organismos públicos tan dispares como la ONU, la UE, el TEDH y el estado español, a nivel estatal, autonómico y municipal. Las diversas medidas incluyen desde precedentes históricos en el derecho romano, hasta las últimas novedades a 1 de enero de 2020, incluyendo la COP25.
This work on environmental law analyzes the different measures of public bodies in the fight against air pollution; with special emphasis on those that affect Spain and Madrid, such as the procedure against Spain for non-compliance with the NO2 levels and Plan A, which includes the Madrid Central low emission zone, in addition to its theoretical successor, Madrid 360. However, the TFM has a much broader approach, examining the different solutions offered by the various public bodies to the problem of air pollution, both nationally and internationally, with public bodies as diverse as the UN, the EU, the ECHR and the Spanish state, at the state, regional and municipal level. The various measures include from historical precedents in Roman law, to the latest developments as of January 1, 2020, including COP25.